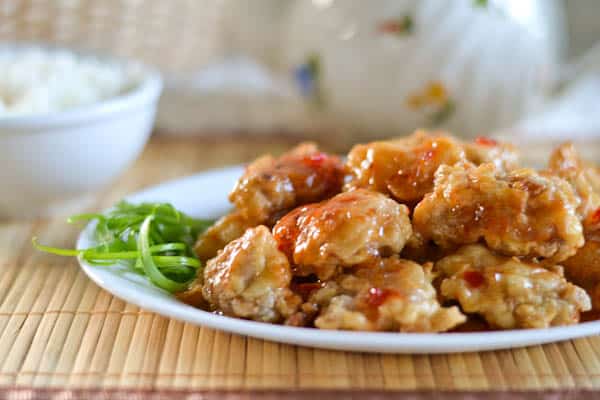 I love cooking for my family. They enjoy and appreciate whatever food I serve on the dining table. It is worth the time and effort I spend in the kitchen cooking for them.  Now that I have a food blog, they are grateful for all the new recipes that I have been trying.  On Sunday, I made this delicious honey chicken dish for dinner.  My husband and oldest son tried it as soon as it was cooked. They both like it so much; they kept coming back to the kitchen to get a piece. My son couldn't stop raving about the dish and even mentioned that it is his favorite.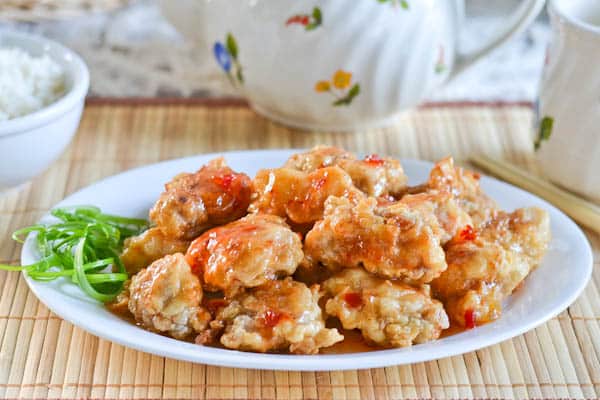 Honey chicken consists of chicken pieces dipped in a batter, rolled in a mixture of cornstarch and flour and then fried. A mixture of honey and chili sauce is afterwards poured over the cooked chicken. The result is sweet and golden chicken nuggets that are crispy on the outside and juicy and tender on the inside. 🙂

Honey Chicken
Ingredients
1 lb. skinless, boneless chicken thighs cut into bite-sized pieces
½ cup flour
½ cup cornstarch
½ teaspoon baking powder
2 egg whites, beaten
½ plus ⅛ cup cold water
¾ cup honey
3 teaspoons sweet chili sauce
Oil for frying
Cornstarch/flour mixture:
½ cup cornstarch
½ cup flour
1 teaspoon salt
¼ teaspoon pepper
Instructions
Combine ingredients for cornstarch/flour mixture. Set aside.
Make a creamy batter of the flour, cornstarch, baking powder, beaten eggs and cold water.
Dip the chicken pieces into the batter and then roll in cornstarch/flour mixture. Fry in moderately hot oil until golden and crisp on the surface, around 5 minutes. Drain briefly and transfer to a serving plate.
In another pan, melt the honey with the sweet chili sauce. Pour over the chicken and serve immediately.
Enjoy!
Notes
This recipe is adapted from the cookbook "Step by Step Chinese Cooking".
Check out some of my other Asian inspired chicken dishes.
Sticky Honey Sesame Drumsticks