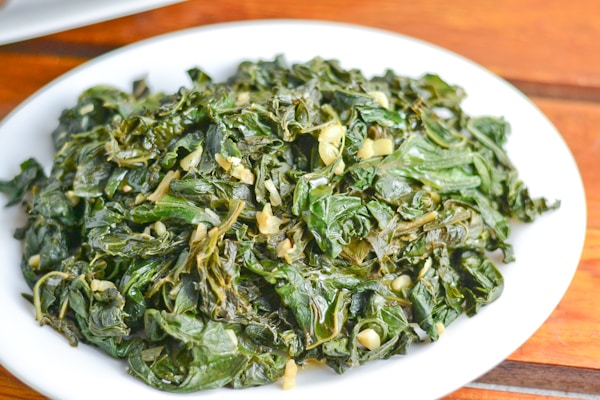 My family and I have been enjoying the fruits and vegetables that my garden is producing this summer. The blueberries came early this year and I just harvested the last batch this morning. I am still waiting for the green peppers and white eggplants to reach their desired size while the strawberries, tomatoes and red Russian kale just keep on producing. Just yesterday, I harvested a large bunch of kale and decided to simply sautéed it with garlic and finished off with a drizzle lemon juice. To add more taste and flavor, I also drizzled the cooked kale with this garlic chili infused olive oil that I bought from our recent trip to Leavenworth. I served this tasty side dish alongside the pork side ribs that I baked for dinner last night. Yummy!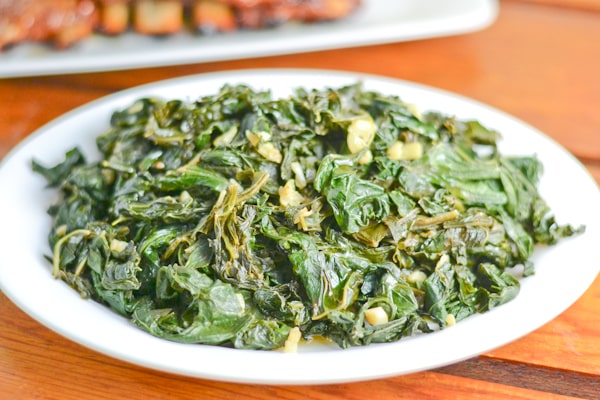 Red Russian Kale with Garlic and Lemon
Ingredients
1 large bunch of red Russian kale, washed, stems removed and roughly chopped
2 tbsp olive oil
5 cloves garlic, finely chopped
Sea salt and freshly ground pepper, to taste
½ cup water
Juice of half a lemon
Instructions
Heat olive oil in a skillet over medium-high heat. Add garlic and sauté for about a minute or until it turns just golden.
Add kale and stir until kale is fully coated with oil. Add salt, pepper and water. Cover and cook for about 10 minutes or until kale is soft and tender. Adjust seasonings and drizzle with lemon juice.
Serve with your favorite meat.