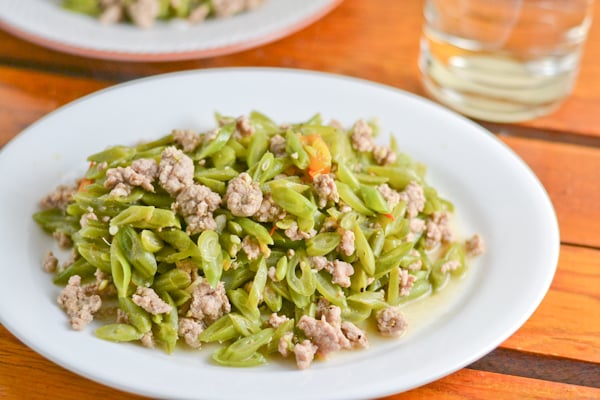 This recipe is my favorite way of cooking and eating green beans. I learned this simple and easy way of sauteing vegetables from my mom. This was an effective and economical way of feeding a family with seven children. I so deeply miss her cooking so I try to recreate her dishes as much as I could.  This sauteed green beans is one of those dishes that she would cook for us. The green beans were freshly picked from my cousin's garden when I went to their house recently. The green beans were cut diagonally into small pieces to reduce cooking time. It was simply sauteed in garlic, tomato and lean ground pork and then flavored with fish sauce or salt. I enjoyed this tasty vegetable dish with steamed rice. Yummy!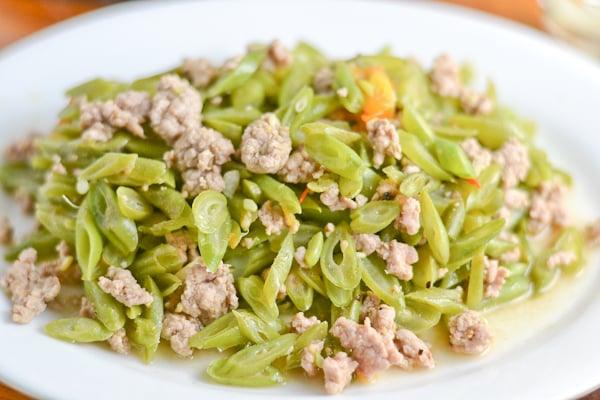 Sauteed Green Beans
Ingredients
2 tbsp olive oil
2 cloves garlic, chopped
1 small tomato, chopped
1 /2 lb lean ground pork
1 lb green beans, trimmed and cut diagonally into ⅛ inch pieces
1 tbsp fish sauce or 1 tsp salt
½ cup water
Salt and freshly ground pepper to taste
Instructions
Heat oil in a skillet over medium heat. Add garlic and sauté for a minute or until it turns just brown. Add chopped tomato and sauté for 2 to 3 minutes or until tomato has softened.
Add ground pork and sauté for 3-4 minutes or until no longer pink. Add fish sauce or salt; stir to combine.
Stir in green beans and water; cover and cook for 4-5 minutes or until green beans are crisp tender. Season with salt and pepper. Serve with steamed rice.