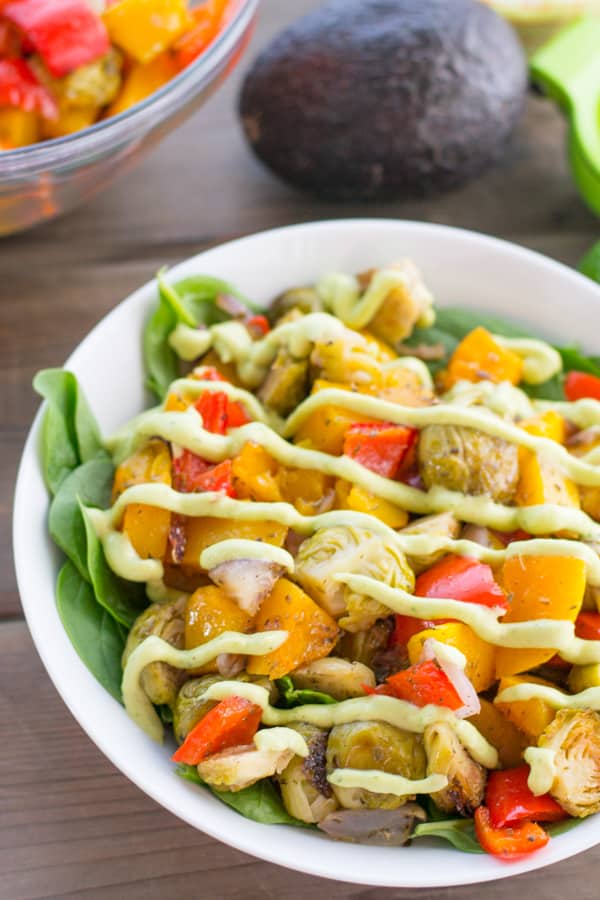 This roasted veggie salad is awesome! It consists of my favorite vegetables: squash, brussels sprout and bell pepper. It is served with a dressing that consists of an avocado, a fruit that my husband and I have been consuming a lot lately. The vegetables were simply coated with a mixture of oregano, salt, ground pepper and olive oil and then roasted for 40 minutes. It was served on a bed of spinach and drizzled with a tangy and creamy avocado dressing. It was a simple but satisfying and guilt-free meal. Enjoy!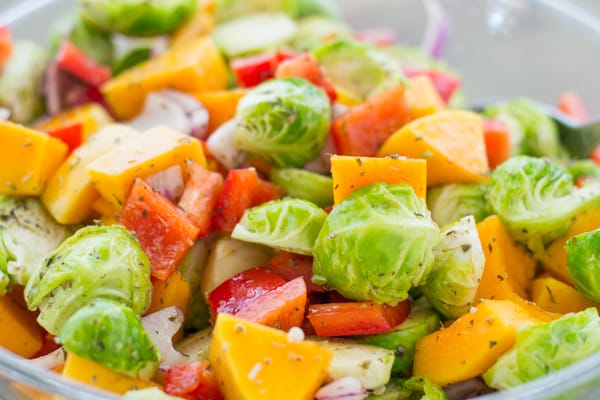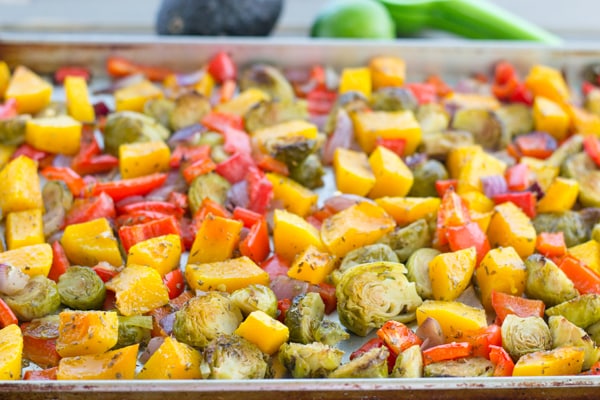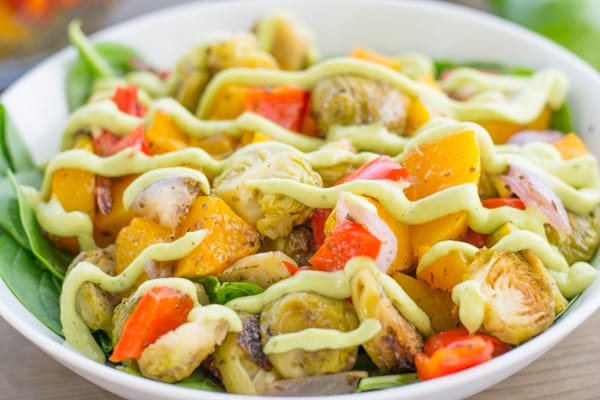 Roasted Veggie Salad with Avocado Dressing
Ingredients
1 tbsp dried oregano
1 tsp Kosher salt
½ tsp freshly ground black pepper
¼ cup olive oil
1 lb butternut squash, peeled and cubed
2 red bell pepper, deseeded and chopped into bite-size chunks
1 lb brussels sprouts, halved
bunch of baby spinach
Avocado Dressing:
1 avocado, halved, pitted and chopped
1 clove garlic
1 tsp fresh chopped parsley
Juice of 1 lime
¼ cup olive oil
¼ cup water (optional)
kosher salt and freshly ground pepper, to taste
Instructions
Preheat oven to 400°F.
In a large bowl, whisk together dried oregano, salt, pepper and olive oil. Add the butternut squash, bell pepper and Brussels sprouts; mix until all veggies are evenly coated.
Spread the vegetables onto a baking sheet in a single layer and roast for 40 minutes or until squash is fork tender.
Meanwhile, place the avocado, garlic, parsley, lime juice and olive oil in a blender or food processor and process until the mixture is well blended. If desired, thin the mixture with water until preferred consistency has been reached. Season mixture with salt and pepper to taste.
To serve, place a handful of spinach on a plate, top with the roasted veggie and then drizzle with the avocado dressing.
Enjoy!