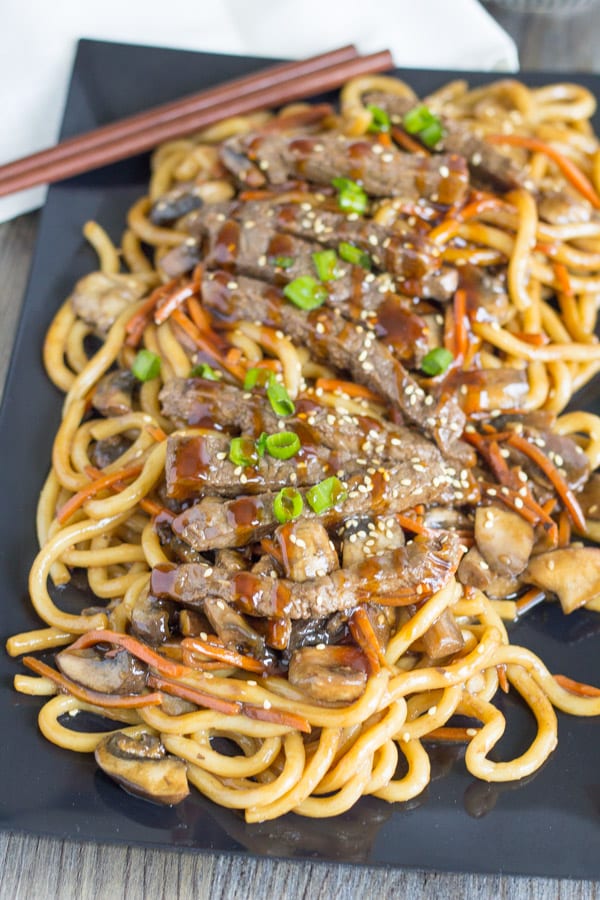 Beef teriyaki is always a big hit with my family. We just can't get enough of those delicious and perfectly cooked slices of beef with that sweet and sticky teriyaki sauce. We are also a big fan of noodles; udon noodles, in particular. This beef teriyaki udon noodle dish combines these two favorites to make one delicious dish. The best part is that it's so easy to make!
In this beef teriyaki udon dish, the slices of beef are stir-fried after first being marinated for 30 minutes. Then, carrots and mushrooms are added along with the udon noodles. Then, the teriyaki sauce is poured over. The result is a very satisfying dish that we can't get enough of. Enjoy!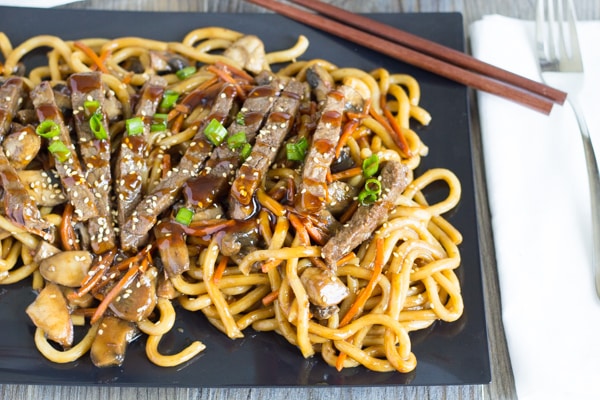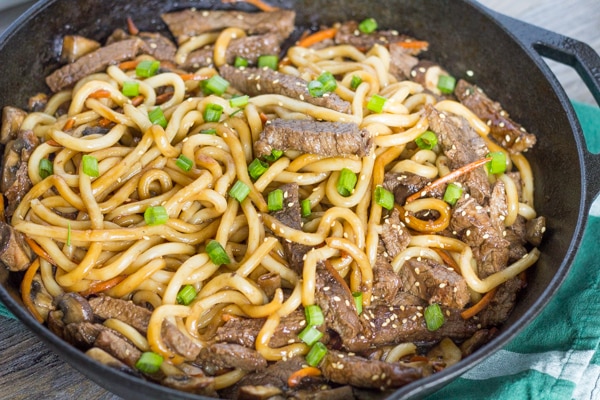 Beef Teriyaki Udon
Ingredients
20 oz (574g) sliced beef rib steak or sirloin tip steak
2 tbsp soy sauce
2 tbsp sake
2 tbsp olive oil
200 g Udon noodles
½ cup finely julienned carrots
½ cup sliced mushrooms
Green onions, chopped for garnish (optional)
Roasted sesame seeds (optional)
Teriyaki sauce
¼ cup soy sauce
¼ cup sake
¼ cup brown sugar
¼ cup mirin
1 tsp cornstarch dissolved in 1 tbsp water
Instructions
Marinate the beef with 2 tbsp of soy sauce and 2 tbsp of sake for 30 minutes.
Cook the udon noodles according to the directions on the package. Drain and set aside.
In a non-stick pan or skillet, heat the olive oil over medium-high heat. Add the beef and stir fry for 4-8 minutes or until liquid from the marinade had almost evaporated and the beef is browned.
Add the carrots and mushrooms and sauté for an additional 1-2 minutes.
Stir in the cooked udon noodles. Transfer to a plate.
In a small saucepan, combine the soy sauce, sake, brown sugar and mirin. Let boil, then add cornstarch mixture, stir and cook until thick.
Pour the sauce over the noodles and cooked beef and sprinkle with sesame seeds and green onions, if using.
Serve and enjoy!