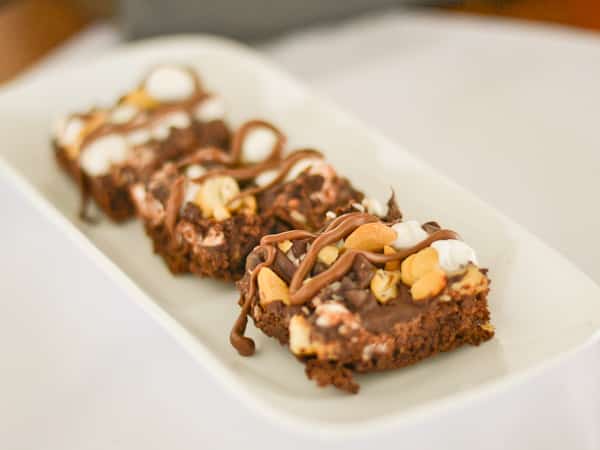 It was uncommon for my mother to bake goodies when I was growing up because she was very busy working.  My siblings and I would go to Goldilocks, a popular Filipino bakery, to buy baked goods. Rocky road brownies were one of my favorite treats to buy. Now that I have a family of my own, I am able to make those treats that I once desired as a kid. I am glad that I was able to make some of these treats already such as butterscotch bars, puto, kutsinta and leche flan. Over the weekend, I was able to add another one to the list: rocky road brownies.
This particular type of brownie consists of nuts and marshmallows. I used cashew nuts because it reminds me of the one that I used to buy from Goldilocks. My family enjoyed these delicious treats as much as I did as a child. I am happy that I am able to share a piece of my childhood with my family. 😀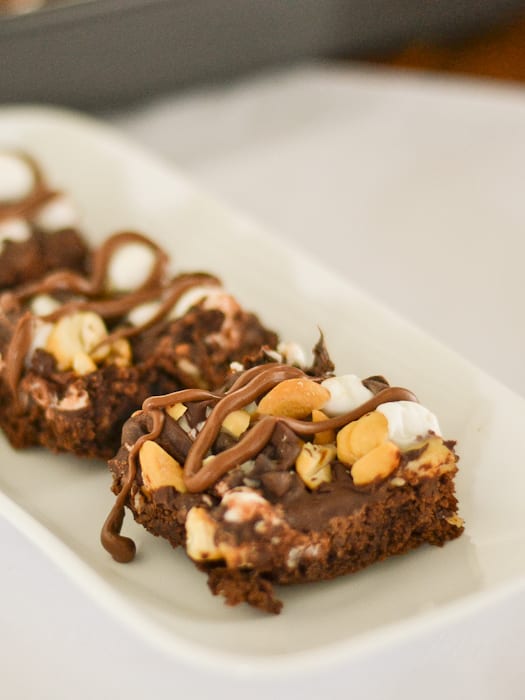 Rocky Road Brownies
Ingredients
1 ¼ cup miniature marshmallows
1 cup dark chocolate chips
½ cup chopped cashew nuts
½ cup butter, melted
1 cup sugar
2 eggs
1 teaspoon vanilla extract
½ cup all purpose flour
⅓ cup cocoa
½ teaspoon baking powder
½ teaspoon salt
Instructions
Preheat oven to 350°F.
In a small bowl, combine the chocolate chips, marshmallows and cashew nuts. Set aside.
In a large mixing bowl, combine melted butter, sugar, eggs and vanilla; beat with a spoon until well blended. Add the flour, cocoa, baking powder and salt; stir until well blended. Spread batter into a greased 9-inch baking pan.
Bake for 22 minutes. Sprinkle the chocolate chip mixture over the top and continue baking for another 5 minutes or until marshmallows have softened and puffed slightly.
Cool completely in pan on wire rack. Cut into squares using a wet knife.
Serve and enjoy!
Notes
Recipe adapted from www.hersheys.com