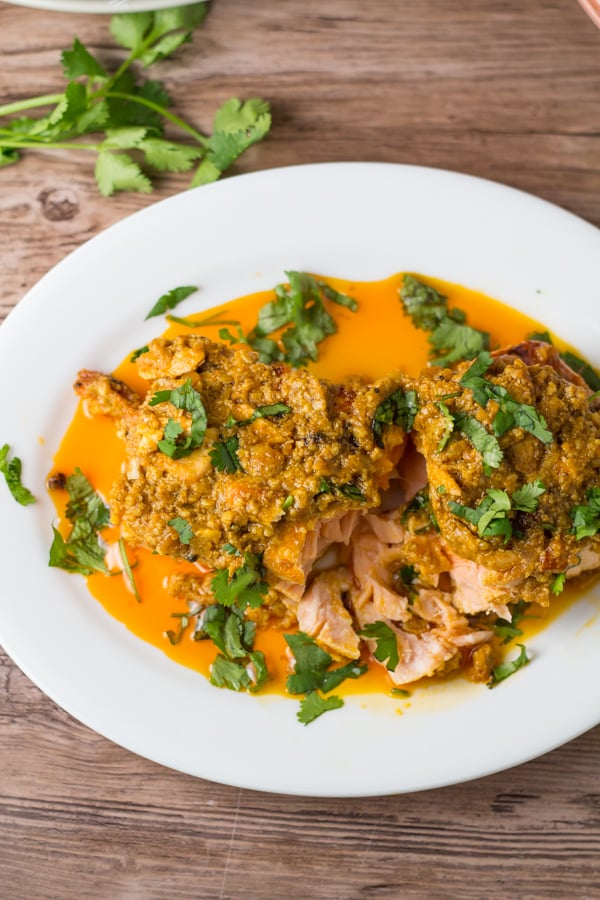 This salmon curry recipe is another one to tickle your taste buds. The salmon fillets are coated in a paste consisting of incredible spices. It is seared and then simmered with a flavorful sauce. When perfectly cooked, the salmon is so tender and juicy. My son and husband could not get enough of this dish. Yum!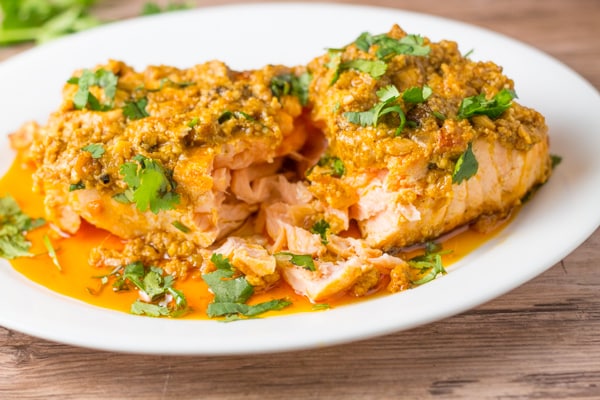 Salmon Curry
Ingredients
¾

cup

avocado or canola oil,

divided

1

onion,

chopped

2

cloves

garlic,

grated

1-

inch

piece ginger,

peeled and grated

1/2

tsp

kosher salt,

plus more for seasoning the fish

½

cup

tomato sauce

½

tsp

curry powder

½

tsp

garam masala

½

cup

unsalted raw cashews

4

salmon fillets

½

cup

water

½

tsp

roughly ground mustard seeds

Chopped cilantro,

for garnish
Instructions
Heat ½ cup oil in a heavy pan over medium high heat. Add the onion and saute until golden brown, about 4 minutes.

Add the garlic, ginger, salt, tomato sauce, curry powder, garam masala and cashews. Cook, stirring regularly, on medium heat for 5 minutes. Remove from the heat and set aside to cool.

Place cashew mixture in a food processor and process until smooth.

Season the fish with salt and then rub 3 tablespoons of the cashew mixture all over the salmon fillets. Set aside.

In a large frying pan, heat the remaining ¼ cup oil over medium high heat. Add the salmon fillets and fry until brown, about 2 minutes on each side. Remove the salmon from the pan and set aside.

Remove all but 2 tablespoons of oil from the pan. Reheat the pan over medium high heat and then add the water, mustard seeds and remaining cashew mixture.

Bring to a simmer and then add the salmon fillets, and cook for another 3 minutes.

Serve with rice. Garnish with chopped cilantro.