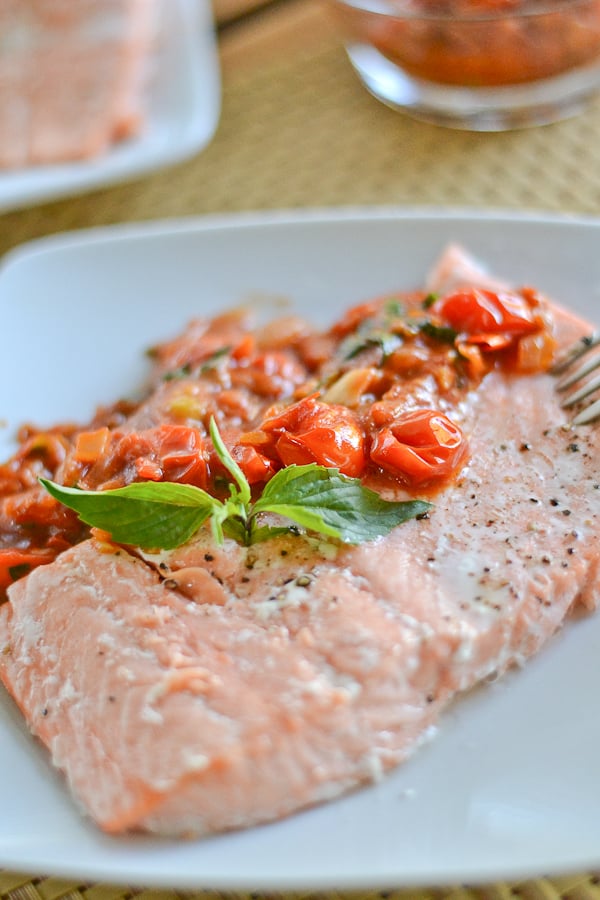 I love this recipe for two reasons. First, it is a salmon recipe and as I have mentioned so many times here in my blog, salmon is my family's favorite fish. Secondly, this recipe uses three ingredients that I really like and frequently use in my cooking; tomatoes, basil and balsamic vinegar. These three ingredients, along with garlic and onion make up the sweet and refreshing side dish that goes well with the salmon fillets. The original recipe calls for frying the salmon first and finishing it off in the oven but I made it healthier by cooking the salmon fillets entirely in the oven.  This salmon dish with the cherry tomato sauce is not only delicious but healthy as well. Love it!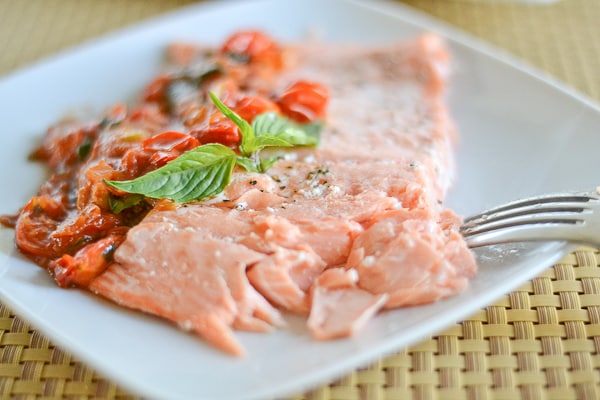 Salmon with Sweet Cherry Tomato Sauce
Ingredients
3 tablespoons olive oil plus more brushing salmon fillets
1 onion, chopped
2 cloves garlic, minced
2 cups cherry or grape tomatoes, halved through the stem
Kosher salt and freshly ground pepper
1 ½ tablespoons balsamic vinegar
1 ½ tablespoons julienned fresh basil leaves
4 (7oz) salmon fillets
Instructions
Preheat oven to 350°F.
Heat olive oil in a medium (10-inch) sauté pan. Add onion and sauté over medium-low heat for 5 minutes, stirring occasionally, until very tender but not browned. Add garlic and sauté for 1 more minute. Stir in tomatoes, 1 teaspoon salt and ½ teaspoon pepper, and cook over medium low heat for 10-15, stirring occasionally, until the liquid evaporates and the tomato sauce thickens slightly. Off the heat, stir in vinegar and basil.
Place salmon fillets on a baking sheet lined with aluminum foil. Brush salmon all over with olive oil, sprinkle liberally with salt and pepper. Bake in the oven for 10-12 minutes or until fillets flake easily with a fork.
Reheat the tomatoes, season to taste and serve hot, warm or at room temperature along with salmon.
Enjoy!
Notes
Recipe adapted from Ina Garten as featured in "Enjoy cooking: The Costco Way".