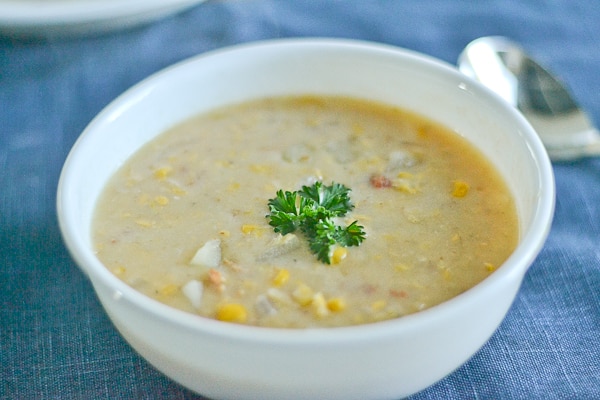 It has been a long and busy day at work today. I came home very tired and looking forward to a relaxing and early night. Dinner had to be simple, filling and comforting as well. A bowl of hot soup is what I had in mind and I had a quick and easy corn chowder recipe that I wanted to try.  With bacon and potatoes and a few simple ingredients, this tasty corn chowder is definitely the perfect meal on a night like this. Simply delicious!

Quick and Easy Corn Chowder
Ingredients
6 pieces bacon
3 large potatoes, peeled and chopped
1 medium onion, chopped
2 (398 ml/14 fl oz) cans cream-style corn
2 cups water
2 teaspoons salt
Freshly ground pepper to taste
2 cups half and half cream
Instructions
Place the bacon in a large pot over medium-high heat, and cook until crisp. Drain and crumble, reserving about 2 tablespoons drippings in the pot.
Mix potatoes and onion into the pot with the crumbled bacon and reserved drippings. Cook and stir for 5 minutes. Pour in the water, and stir in corn. Season with salt and pepper. Bring to a boil; reduce heat to low, and cover pot. Simmer 20 minutes, stirring frequently, until potatoes are tender.
Warm the half-and-half in a small saucepan until it bubbles. Remove from heat before it boils, and mix into the chowder just before serving.
Notes
Recipe slightly adapted from: CKINCAID1