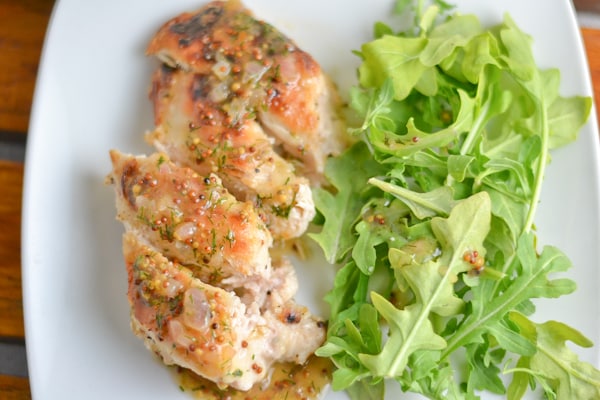 I love simple and delicious dishes. This chicken recipe falls under that category. Boneless chicken breasts are seasoned, coated in flour, browned and put in the oven to finish cooking. I adapted the original recipe by adding the last step, which I think is necessary to make sure the chicken are fully cooked. Just be careful not to overcook the chicken though. The chicken breast, when properly cooked, should be tender and juicy. The whole-grain mustard and dill sauce makes this simple dish stand out. I never thought these two together can be so good. I had this tasty dish with my favorite greens and I even used the sauce as the dressing. Enjoy!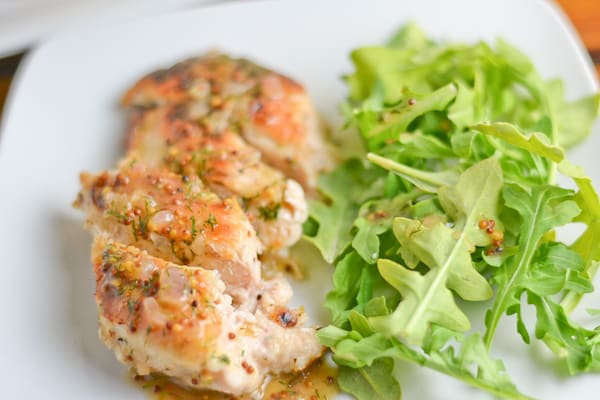 Sauteed Chicken Breast with Mustard Dill Sauce
Ingredients
½ cup all-purpose flour
4 boneless, skinless chicken breasts
Sea salt and freshly ground pepper
2 tbsp vegetable oil
1 shallot, minced
¾ cup chicken broth
½ cup dry white wine
2 tbsp unsalted butter
2 tbsp chopped fresh dill
1 tbsp whole-grain mustard
Instructions
Spread flour in shallow dish. Pat chicken dry with paper towels and season with salt and pepper. Dredge chicken in flour, shaking off excess.
Preheat oven to 350 degree F.
Heat 1 tbsp oil in a large heavy skillet over medium high heat. Add the chicken and brown on both sides, 3-4 minutes per side. Transfer to a baking sheet lined with foil and bake for 8-10 or until chicken is cooked. Be careful not to overcook the chicken; cut into one to see if it is done.
Prepare the sauce: Heat remaining 1 tbsp oil in now empty skillet. Add shallot and cook over medium heat until softened. Stir in broth and wine, scraping up any browned bits. Simmer for 8 minutes or until slightly thickened. Off heat, whisk in butter, dill and mustard. Season with salt and pepper to taste. Spoon sauce over chicken.
Serve and enjoy!
Notes
Recipe adapted: "America Test Kitchen: The Best Simple Recipes" cookbook.