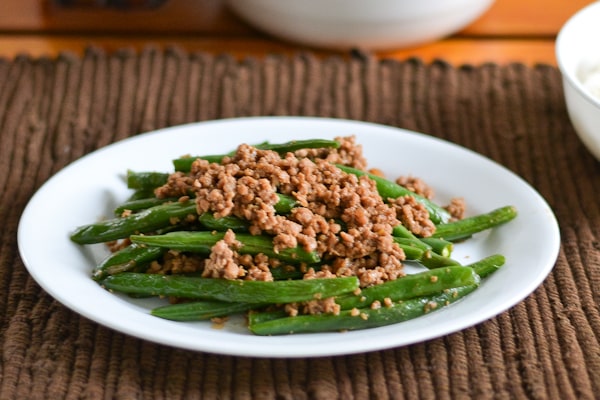 There are only 10 more days before Christmas. The mall is getting busier each day and I am still  not done with my Christmas shopping. Yesterday was quite a busy day so I was thinking of a quick and easy dish to make. I made this delicious sautéed green beans for dinner last night.
There are many ways to prepare and cook green beans. It can be steamed, grilled, baked or sautéed. My favorite way is to sauté it with ground pork and flavored with oyster sauce. It is such an easy recipe; dinner is ready in less than half an hour 🙂

Sautéed Green Beans
Ingredients
1 lb. green beans, ends trimmed
10 oz. lean ground pork
2 tablespoons olive oil
1 shallot, chopped
1 tablespoon soy sauce
4 tablespoons oyster sauce
¼ cup water
Instructions
Heat olive oil and sauté shallot until soft.
Add ground pork and cook for 4 minutes or until pork is no longer pink.
Add soy sauce and 3 tablespoons oyster sauce. Stir to combine flavor.
Add green beans and stir. Add water, stir, cover and cook for 5 minutes.
Add the remaining tablespoon oyster sauce, stir, cover and turn off heat. Let the vegetables cook further for at least 10 more minutes.
Serve with steamed rice. Enjoy!