Spring has finally arrived in Vancouver. I feel elated watching birds coming to feed on the bird feeder which my husband hangs close to our kitchen window. The tulips in front of my house are in bloom and part of my backyard garden is alive with vibrant colors.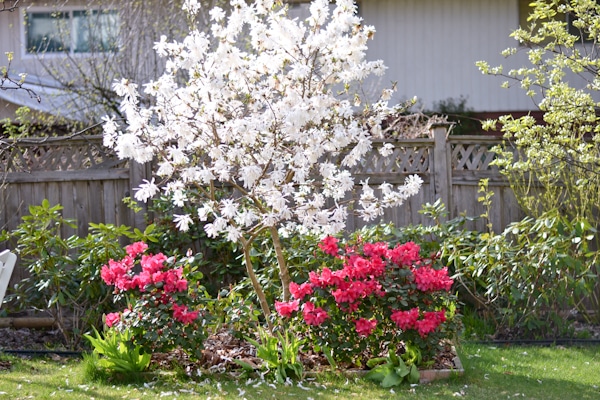 It still rains, of course. Just like on Sunday, it was gloomy and raining all day.  My husband went for a long bike ride and came home very hungry. He was happy to have a big bowl of soup that I made for lunch. Shabu shabu soup, along with sinigang (Filipino sour soup), is my family's favorite. It is inspired from the popular Japanese soup, shabu-shabu. But my version is a simple one. Pork neck bones were used to flavor the broth.  Letting it boil in a pot of water for an hour or so makes the meat so tender they fall off the bones. Ingredients like fish balls, tofu, mushrooms and Chinese broccoli are added to complete this warm and comforting soup.  This soup is very versatile. You can put any ingredients that you like or whatever is available in the supermarket. Fresh shitake mushrooms can be replace with other mushrooms like enoki or button mushrooms.  Napa cabbage or bok choy can also be used instead of Chinese broccoli.  No matter what you put in the soup. It will taste as good. I was glad there was still some left-over when I came home yesterday. I had it for dinner last night. My favorite part of eating this soup was nibbling the meat from the bones.  Delicious! 🙂

Shabu Shabu Style Soup
Ingredients
2 lbs pork neck bones, cut into chunks
15 cups water
1 lb fresh cuttlefish or fish balls (optional)
454 g medium firm tofu
9 oz fresh shitake mushrooms, sliced
1 lb Chinese broccoli (gai lan), washed and tough ends cut
Sea salt and freshly ground pepper to taste
Instructions
In a large pot, bring water and pork neck bones to a boil. Add a tablespoon of salt, cover, lower the heat and let simmer for 1 hour or so.
Add mushrooms , gai lan and fish balls, if using. Let simmer for another 5 minutes.
Season the broth with salt and freshly ground pepper. Add tofu and let simmer for couple more minutes.
Serve as is or with steamed rice.
Enjoy!