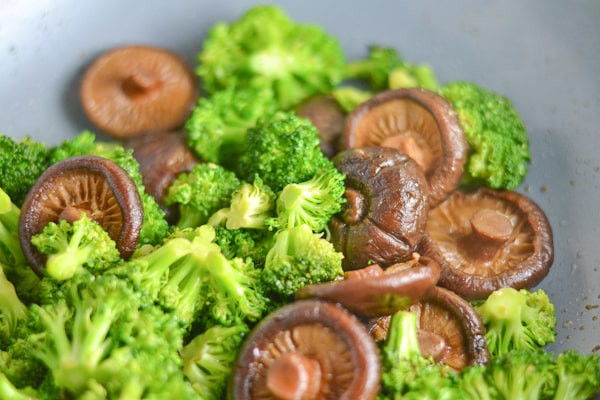 My son's girlfriend came over for dinner two weeks ago. I only had time to make one dish so I ordered a supplement dish from our favorite local restaurant. I decided to order a vegetarian one to go with the meat dish I made. It consisted simply of shiitake mushrooms and broccoli and flavored with oyster sauce. The shiitake mushrooms were so tender and flavorful.  We enjoyed them so much, I decided to recreate it at home. The taste may not be the same, but it was still good. Both the mushrooms and broccoli were tasty and satisfyingly good. It was a guilt-free dish to have. Enjoy!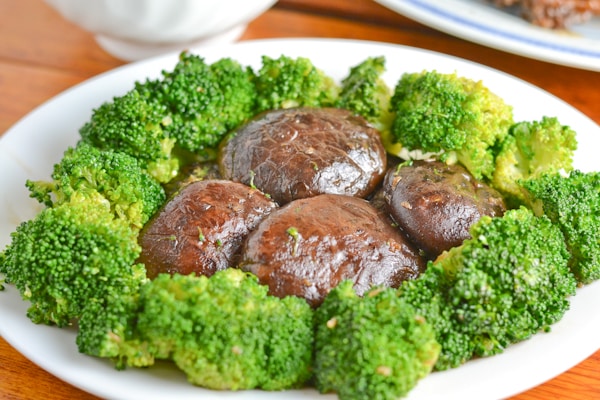 Shiitake Mushroom and Broccoli in Oyster Sauce
Ingredients
12 pieces dried Shiitake mushrooms
4 cups broccoli florets
2 tbsp vegetable oil
3 cloves garlic, grated or minced
Sauce
3 tbsp oyster sauce
1 tbsp soy sauce
1 tsp sugar
1 cup water or more as needed
Sesame oil (optional)
Instructions
Soak shiitake mushrooms in hot water for at least 20 minutes. Squeeze out the excess water. Leave the stems on or cut them off, whichever you prefer. Set aside.
Blanch the broccoli florets with hot salted boiling water for 1 minute. Drain and set aside.
Heat the oil in a skillet over medium high heat. Add garlic and mushrooms; sauté for a minute.
Stir in oyster sauce, soy sauce, sugar and water. Bring the mixture to a boil, reduce heat, cover and let simmer for 5-7 minutes or until mushrooms are tender, adding more water as needed. Add broccoli and stir to combine. Sprinkle with sesame oil, if desired.