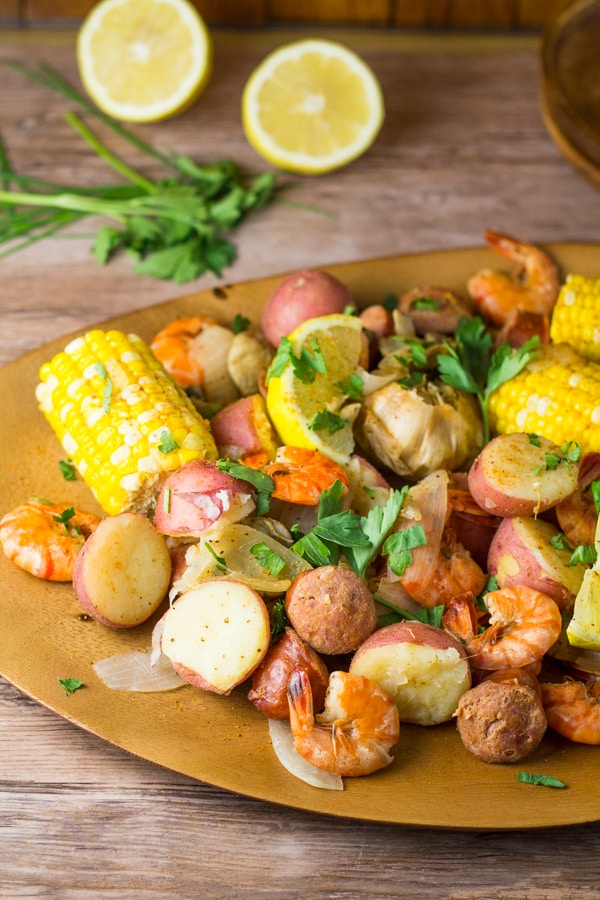 This shrimp boil could not have been easier to prepare and the result was fantastic! All the ingredients in this one pot meal were added in a pot of seasoned stock.
This shrimp boil recipe started with boiling water, generously flavored with old bay seasoning and sea salt. The sausage, shrimp and vegetables were then added to the pot at different times during the cooking process. The vegetables were added in the order of longest to shortest cooking time while the sausage was added midway through cooking time. The shrimp was added last. The result was a tasty and delicious meal of sweet corn, tender potatoes, juicy sausages, firm shrimp and delicate mushrooms. My family raved about this shrimp boil. I told my oldest son about this amazing dish and promised him that I would make it again in the future for him and his wife. Maybe next time I will add clams, mussels and maybe scallops.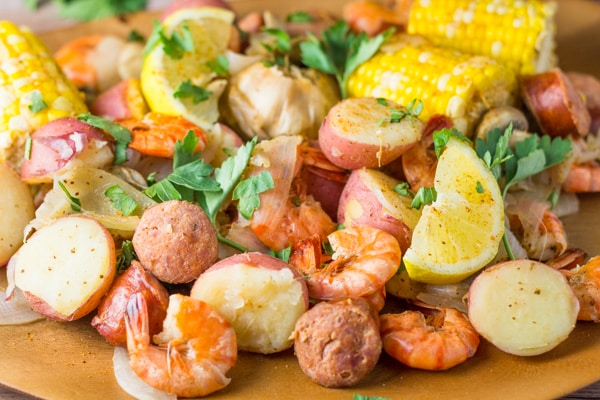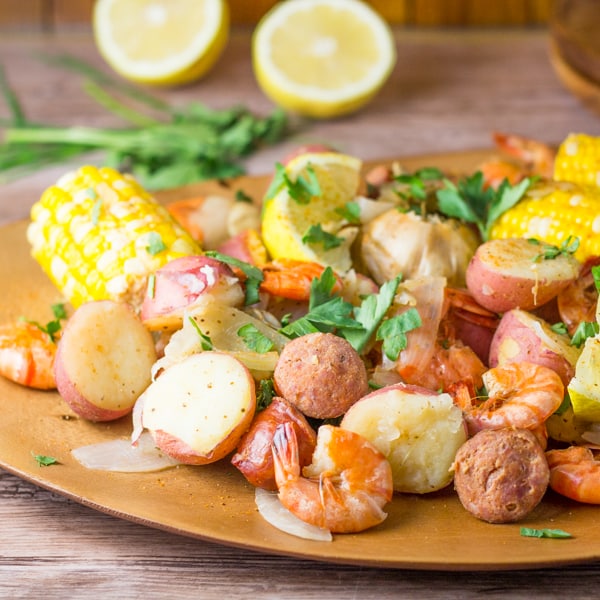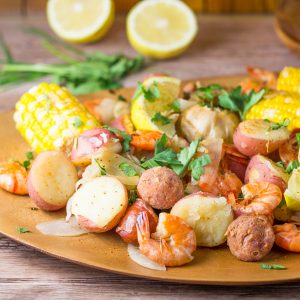 Shrimp Boil
Ingredients
16

cups

water

1/2

cup

Old Bay Seasoning

, plus more for sprinkling

2

tablespoons

sea salt

8

mini red potatoes

, halved

1

large onion

, cut into wedges

1

lemon

, cut into wedges plus more for garnish

1

bulb garlic

, top cut

1

lb

smoked sausage

, cut into 1-inch pieces

4

ears fresh corn shucked and halved crosswise

1

lb

unpeeled tiger prawns or large shrimp

1

lb

mushroom

, sliced

Chopped fresh parsley

, for garnish
Instructions
In a 12-quart stockpot, combine water, Old Bay seasoning and salt. Bring to a boil. Add potatoes, onion, lemon and garlic; cook for 8 minutes. Add smoked sausage and cook for 3 minutes. Add corn and cook for 7 minutes.

Add shrimp and mushrooms; cook until shrimp turn pink, about 4 minutes.

Drain shrimp, sausage and vegetables in a large metal colander and then transfer to a large serving plate. Garnish with lemon wedges and sprinkle with chopped parsley and additional Old Bay seasoning, if desired.