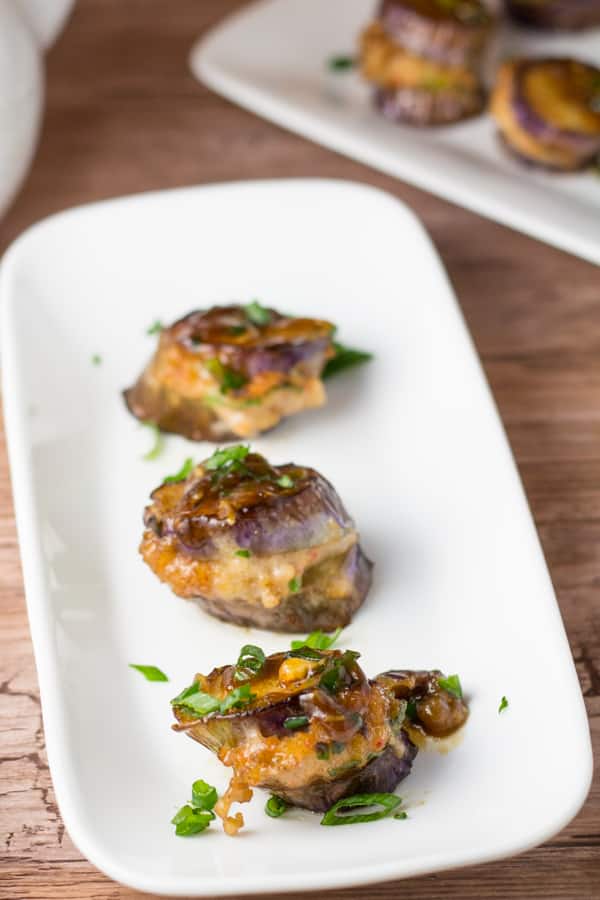 This shrimp stuffed eggplant is another dim sum dish that I love. It is no surprise to me because I grew up eating a lot of eggplant since a young age. So, when I found this recipe online, I knew that I had to make the dish.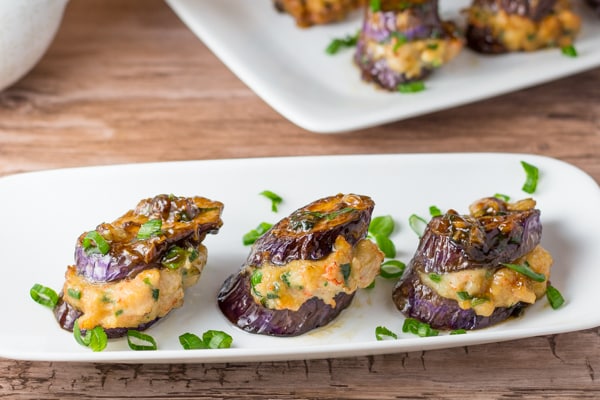 There are lots of steps in this recipe, but it is totally worth it. The eggplant was first sliced diagonally. Then, each slice was cut through the middle to make a pocket which was filled with shrimp paste. Afterwards, the slices were fried and then steamed. It was finished by topping with a delicious sauce. My family raved about this dish, even saying that it tastes like the one we eat at restaurants. The shrimp filling makes this dim sum dish even better. It is a dish that I will definitely be making again in the future. Enjoy!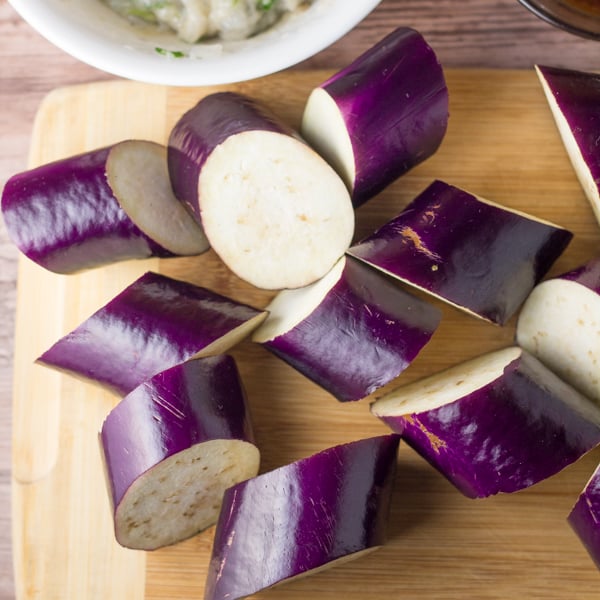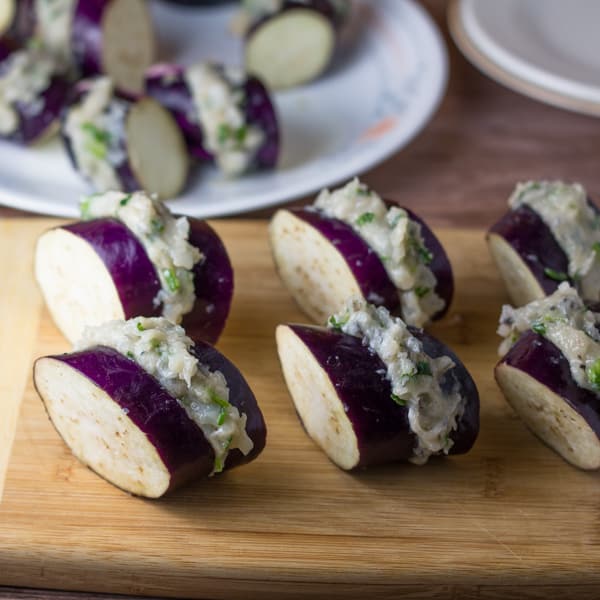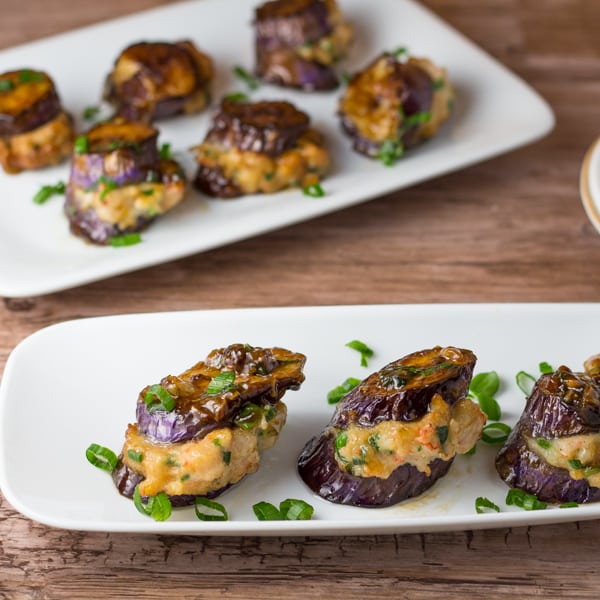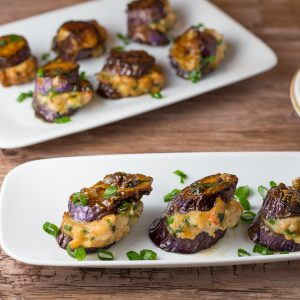 Shrimp Stuffed Eggplant
Ingredients
Filling:
1/2

lb

shrimp

,peeled and deveined

1/4

teaspoon

salt

1

teaspoon

cornstarch

1

teaspoon

sugar

1/8

teaspoon

white pepper

1

teaspoon

oyster sauce

1

teaspoon

sesame oil

1

teaspoon

Shaoxing rice wine

1

egg white

,lightly beaten

2

green onion

,finely chopped

1 1/2

teaspoons

vegetable oil

2

Chinese eggplants
Sauce:
2

tablespoons

oyster sauce

1

teaspoon

sugar

1/2

teaspoon

cornstarch

1

clove

garlic

,minced

1

green onion

,chopped
Instructions
Coarsely chop the shrimp. In a medium bowl, combine chopped shrimp, salt, cornstarch, sugar, white pepper, oyster sauce, sesame oil, rice wine and egg white. Transfer to a food processor and process until a coarse paste forms.

Transfer paste to a bowl and then add green onions and vegetable oil; stir until well combined. Cover with plastic wrap and put in the fridge for 15 to 30 minutes.

Slice each eggplant on the diagonal, about 1-inch thick, then slice through the middle, but not all the way, to create a pocket for the shrimp.

Fill each eggplant slice to the top with about a teaspoonful of the shrimp mixture. Repeat until all the eggplant slices are filled.

Heat a wok or skillet over medium-high heat with 1/4 inch of vegetable oil. Working in batches, fry the eggplant slices for two minutes on each side until browned. Drain on a plate lined with paper towel.

Transfer browned eggplant slices to a clean wok or skillet. Add ½ cup water, cover and steam for 5 minutes or until the eggplant is soft and the shrimp is pink and cooked through. Arrange the eggplant on a platter. Set aside.

In a small saucepan, combine the oyster sauce, sugar, cornstarch and 2 tablespoons of water. Cook, stirring for a minute or until sauce thickens.

Stir in the chopped garlic and chopped green onion.

Top each eggplant slices with the thick sauce. Serve and enjoy!