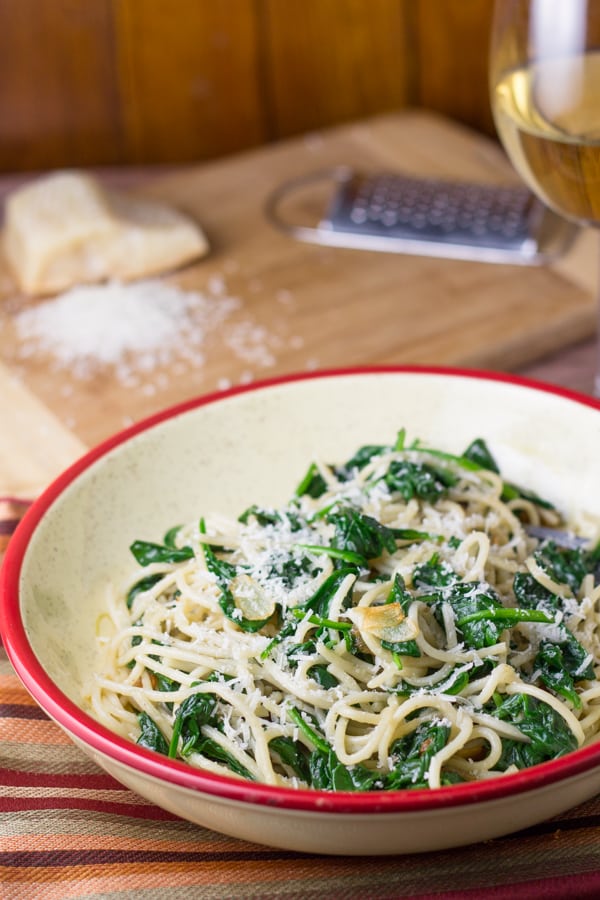 Last week, I made quick Italian sausage spaghetti. I had some left-over spaghetti noodles that I did not want to waste so I went online to look for another spaghetti dish. I was glad to stumble upon this simple spaghetti with garlic and spinach recipe that uses minimal ingredients. Garlic, spinach and Parmigiano Reggiano are the three main ingredients. If you can't get Parmigiano Reggiano, it can be substituted with Parmesan cheese. I loved this dish because it's a fast and easy weeknight meal.
In this vegetarian spaghetti dish, the spinach is first sautéed with oil and garlic. Then it's combined with the noodles and seasoned with salt, pepper and a sprinkle of cheese. The result is a delicious and easy dish that I will be making again in the future!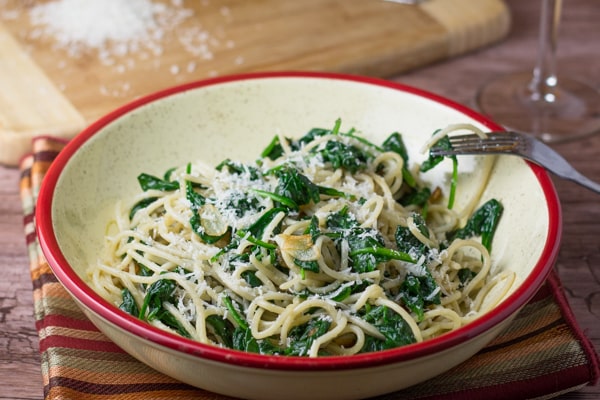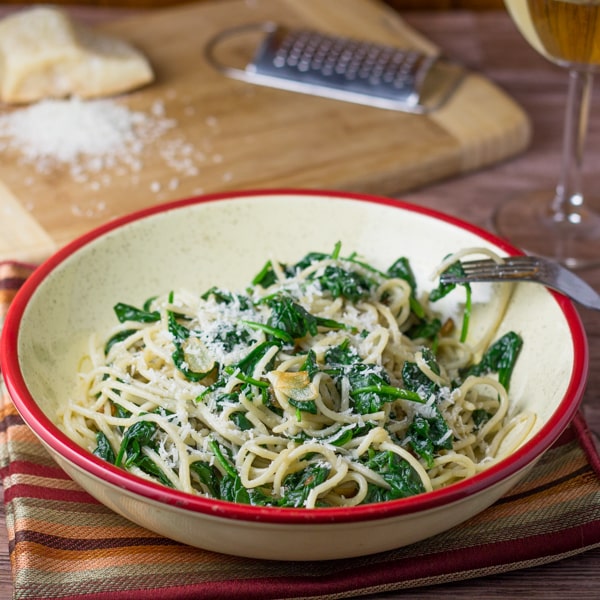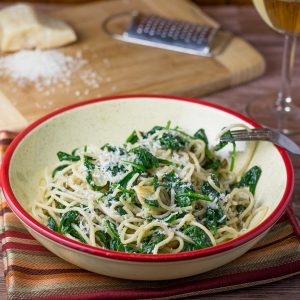 Garlic Spinach Spaghetti
Ingredients
1

lb

spaghetti noodles

1/4

cup

olive oil

6

large cloves

garlic

,peeled and thinly sliced

10

oz.

baby spinach

(10 loosely packed cups)

Kosher salt and freshly ground black pepper to taste

1

cup

freshly grated Parmigiano Reggiano cheese

(about 2 oz.)
Instructions
Cook the spaghetti in salted boiling water until just about tender. Drain, reserving 1 cup of the cooking water.

Meanwhile, combine the oil and garlic in a large skillet over medium-low heat. Cook, stirring often, until the garlic becomes fragrant and is just beginning to turn golden, 4 to 6 minutes. Add the spinach. Season with salt and pepper and then cook, tossing gently with tongs, until the spinach begins to wilt, 2 to 3 minutes.

Add the drained pasta and 1/2 cup of the reserved cooking water. Cook for 1 to 2 minutes, tossing and stirring to combine and blend the flavors. If the pasta isn't tender or seems dry, add the remainder of the cooking water and continue to cook and stir until done. Season to taste with salt and pepper. Sprinkle with cheese.