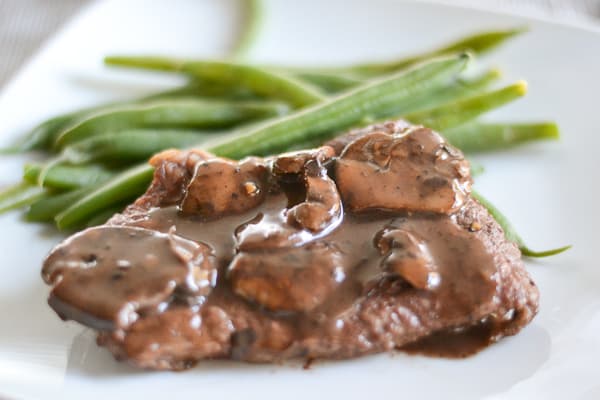 Sirloin steaks were on sale when I went to Costco last week. I bought a whole pack, put half in the freezer and went on the task of searching for a good recipe. I found one that I really like and it has a mushroom sauce. Instead of using heavy cream for the sauce, this recipe uses red wine thus making this dish light and healthier. The beef was cooked just right, tender and juicy.  I really enjoyed my sumptuous dinner of sirloin steak with mushroom steak!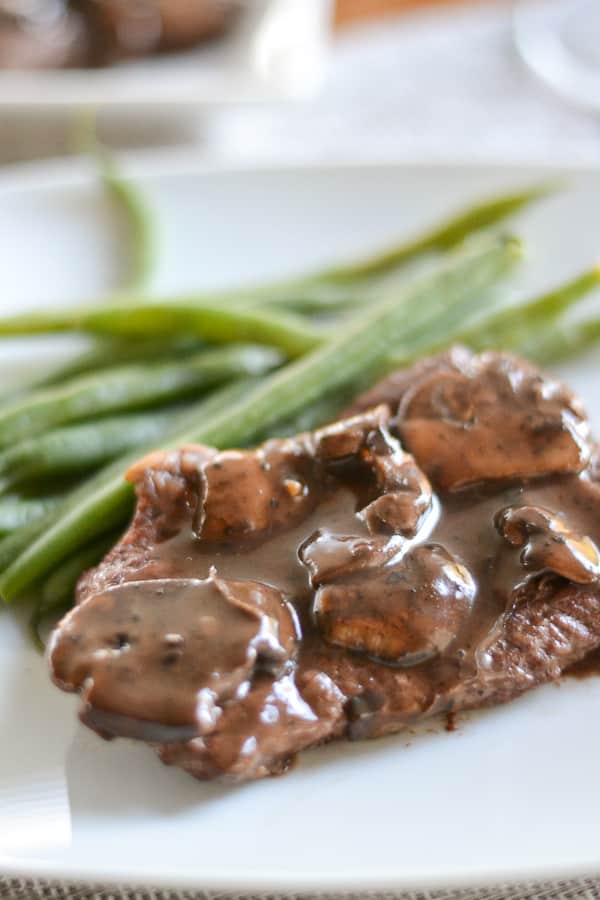 Sirloin Steak with Mushroom Sauce
Ingredients
4 (4-ounce) boneless sirloin steaks, trimmed (about 1 inch thick)
⅜ teaspoon black pepper, divided
¼ teaspoon salt, divided
1 tablespoon olive oil
1 cup sliced cremini mushrooms
½ cup dry red wine
½ cup water
2 teaspoons all-purpose flour
Instructions
Sprinkle steaks evenly with ¼ teaspoon pepper and ⅛ teaspoon salt. Heat oil in a large non-stick skillet over medium-high heat. Reduce heat to medium. Add steaks to pan; cook 2 minutes on each side or until desired degree of doneness. Remove from pan; keep warm.
Add mushrooms to pan; cook 5 minutes or until tender and beginning to brown, stirring frequently. Combine wine, ½ cup water, flour, ⅛ teaspoon pepper, and ⅛ teaspoon salt; stir well with a whisk. Add wine mixture to pan; bring to a boil. Cook 2 minutes or until thick; stir constantly. Remove from heat.
Serve with your favorite vegetables.
Enjoy!
Notes
Recipe source: Martha Condra, Cooking Light