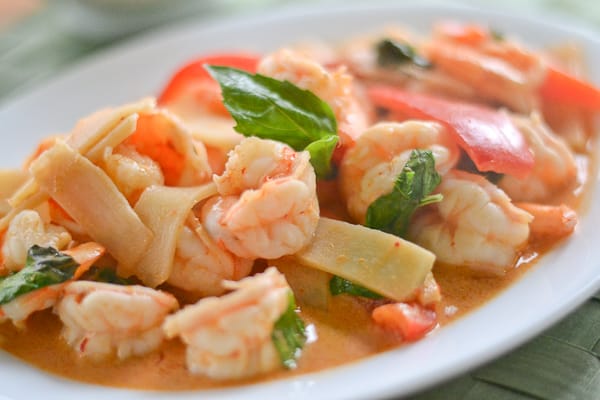 My family loves seafood and shrimp is one of our favorites.  I usually look for new shrimp recipes online or on some of the cookbooks that I possess.  But most of the time, I would try to cook shrimp dishes that we have tried in a restaurant. This shrimp curry recipe is similar to the ones we always have at a local Thai restaurant. It is not only simple to make but also delicious. The shrimps in the red creamy sauce are so delicious and tasty. The sliced bamboo shoots, the bell pepper strips and basil leaves complete this wonderful and flavorful dish.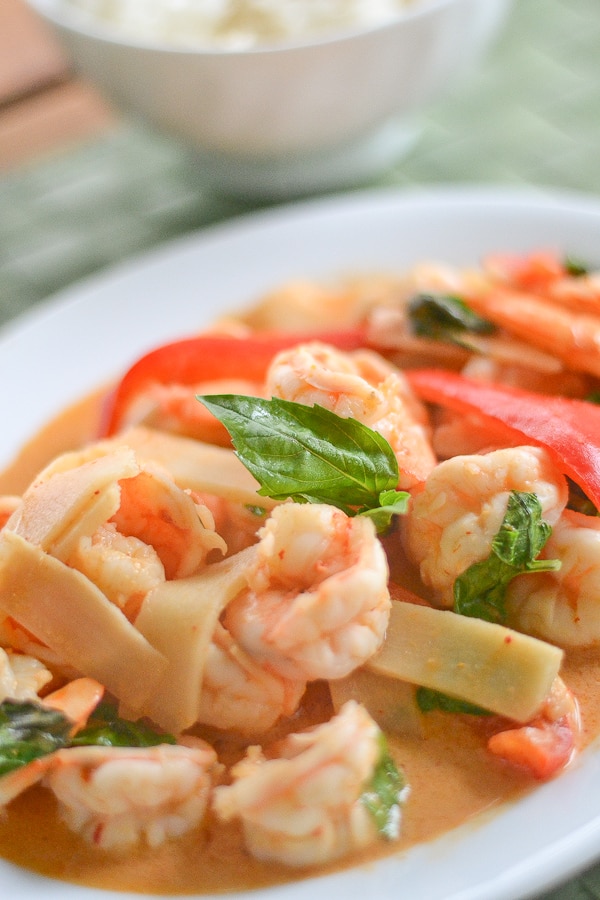 Thai Shrimp Curry
Ingredients
3 tbsp olive oil
2 tbsp Thai red curry paste
4 tsp brown sugar
2 tsp fish sauce
½ tsp red pepper flakes
1 (14 oz) can coconut milk
1 (4 oz) can sliced bamboo shoots, drained
1 red bell pepper, seeded and cut into strips
1 lb shrimp, peeled and deveined
20 fresh Thai basil leaves
Instructions
Heat a skillet over medium-high heat. Add oil and red curry paste. Whisk for about 30 seconds.
Stir in sugar, fish sauce and red pepper flakes. Add coconut milk, continue whisking and bring to a boil.
Add bamboo shoots and bell pepper; stir and cook for 3 minutes. Add shrimp and cook for another 3-4 minutes, or until the shrimps are cooked.
Stir in basil and serve.
Notes
Recipe source: Enjoy Cooking: The Costco Way