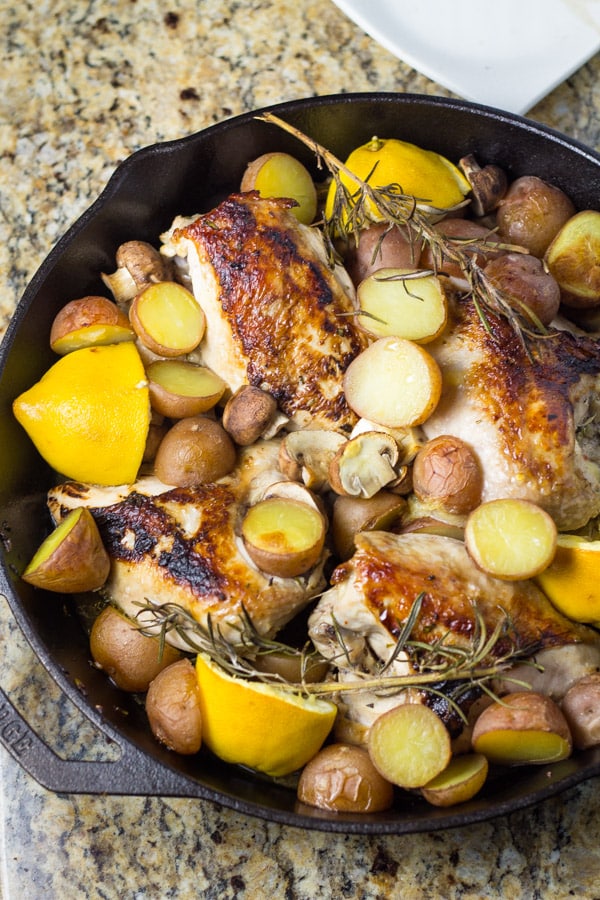 I am constantly looking out for recipes that allow me to make use of my cast iron skillet. There's something about combining colorful ingredients in a cast iron skillet to create flavorful dishes that appeals so much to me. So naturally, I was glad to find this skillet chicken breast recipe.
What I love about this rosemary skillet chicken breast dish is that it is healthy. It is also full of flavor from the lemon, garlic, red pepper flakes and rosemary. The addition of red skinned potatoes and cremini mushrooms completes this hearty dish.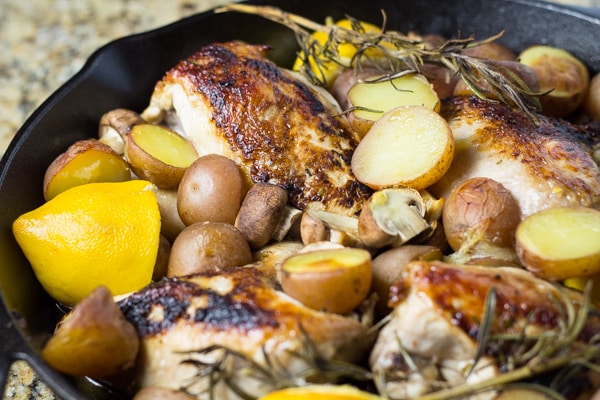 Making this dish was very easy. The chicken breasts are tossed in a mixture of lemon, olive oil, garlic, rosemary, and red pepper flakes. Then they are browned in the skillet before being roasted in the oven along with mushrooms and potatoes. The result was a colorful, flavorful and healthy chicken dish that cannot be resisted. Enjoy!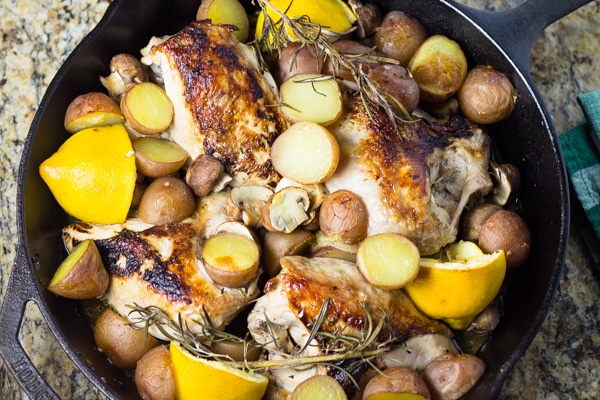 Skillet Chicken Breast with Lemon and Rosemary
Ingredients
4 skin-on, bone-in chicken breasts (6 to 8 ounces each)
3 tsp salt
2 sprigs fresh rosemary, plus 1 tablespoon leaves
1 clove of garlic
Pinch of red pepper flakes
2 lemons
2 tablespoons extra virgin olive oil
¾ pound small red-skinned potatoes, halved, or quartered if large
10 ounces cremini mushrooms, halved
Instructions
Preheat the oven to 450F.
Cook the potato halves by placing in a saucepan and filling with enough water to cover the potatoes. Add 1 tsp of salt. Bring to a boil over medium-high heat and cook until the potatoes are tender, about 8 minutes. Drain and set aside.
Place the 1 tbsp of rosemary leaves on the cutting board along with the garlic, 2 tsps of salt and a pinch of red pepper flakes. Mince together. Transfer to a large bowl and add the juice of 1 lemon and the olive oil. Set the used lemon halves aside.
Coat all the chicken pieces with the lemon juice mixture.
Heat a large cast-iron skillet over medium-high heat. Add the chicken, skin-side down, cover and cook until the skin browns, about 5 minutes. Turn the chicken; add the mushrooms and potatoes to the skillet and drizzle with the juice of the remaining lemon.
Add the rosemary sprigs and the squeezed lemon halves to the skillet; transfer to the oven and roast, uncovered, until the chicken is cooked through and the skin is crisp, 20 to 25 minutes.