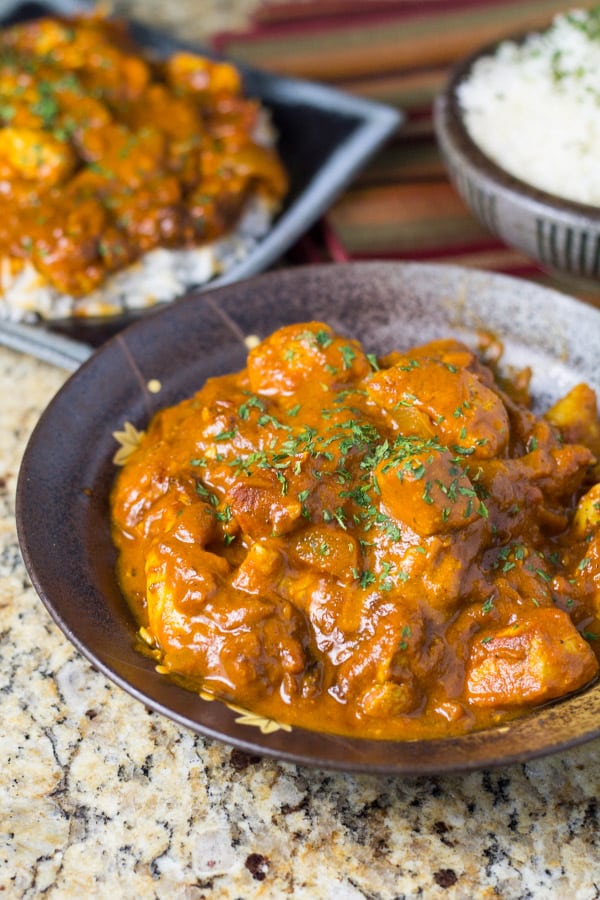 This coconut curry chicken dish caught my attention because the sauce is made of both tomato and coconut. I am a big fan of tomato based sauces so I knew that this dish would taste great. After I made the dish and tasted the sweet and spicy tomato coconut curry chicken dish, I was not disappointed. I love curry dishes and have shared some recipes such as a creamy chicken curry, which is similar but does not use coconut milk. However, this recipe is a definite stand-out.
INGREDIENTS
Chicken Breast – I use a leaner cut of chicken because it's healthier and the sauce helps prevent the chicken from drying out
Curry Powder – the source of curry in the dish
Onions and Garlic – aromatics used in curry dishes
Coconut Milk, Tomato Paste, Tomato Sauce – used in making the delicious tomato based curry sauce
HOW TO MAKE COCOUNUT CURRY CHICKEN
Coconut curry chicken is easy to prepare. I like to cut the chicken breasts into chunks and season it with salt and pepper first. This step gives a chance for the seasoning to integrate with the meat. Then, heat the curry and oil in a large skillet for about a minute. Add the onions and garlic to create a fragrant curry mixture. Then, add the chunks of chicken and mix to coat. Cook the chicken in the curry powder, oil, garlic and onions until no longer pink. Finally, simmer the chicken pieces in the coconut milk, diced tomatoes and tomato sauce. Simmer for 7 to 10 minutes or until you achieve the desired sauce consistency.
TIPS
What kind of coconut milk to use
The best kind of coconut milk to use in coconut curry chicken is a thicker variety of canned coconut milk. The trick to getting a thick sauce is to find a thicker variety of canned coconut milk. There are many different kinds of canned coconut milk you can find in the grocery store. The one that I used actually required me to mix it before using because the thick coconut and the liquid separated in the can. This resulted in a thicker curry sauce.
Finding the right consistency for the sauce
This coconut curry chicken recipe results in a delicious coconut-tomato curry that we all enjoy. Other than selecting the right coconut milk, one way get a thicker sauce is to allow the curry to simmer for longer. This will reduce the liquid in the curry and eventually, you will end up with a thicker sauce.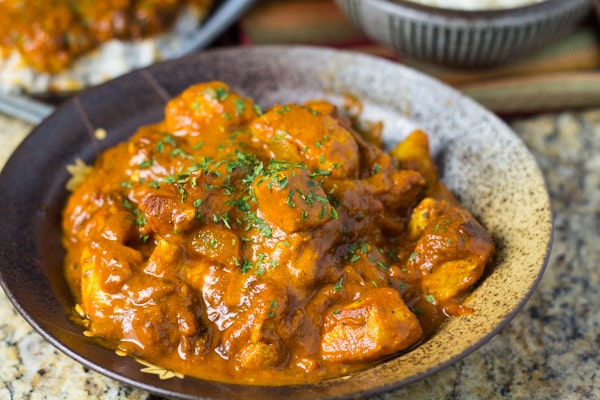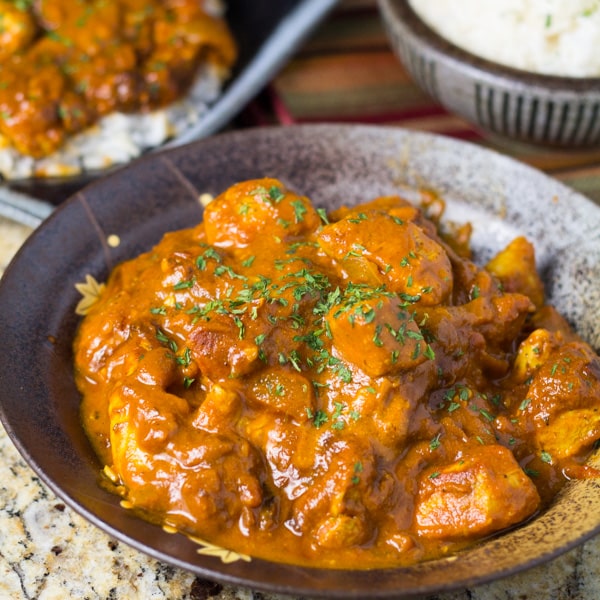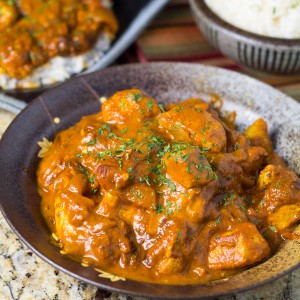 Coconut Curry Chicken
A simple coconut and tomato based curry that is not too spicy. Served this creamy and delicious dish with steamed white rice.
Ingredients
2

lbs

chicken breasts,

boneless, skinless, cut into 1/2-inch chunks

Salt and pepper

1 1/2

tablespoons

vegetable oil

2

tablespoons

curry powder

1/2

onion,

thinly sliced

2

cloves

garlic,

crushed

1

can

(14 ounce) coconut milk

1

can

(14.5 ounce) diced tomato,

drained

1

can

(8 ounce) tomato sauce

(passata may be used if tomato sauce is not available)

1

tablespoons

sugar
Instructions
Season the chicken chunks with salt and pepper.

Mix curry powder and oil. Heat a large skillet over medium-high heat and add the curry oil mixture. Heat curry oil for 1 minute.

Add garlic and onions and cook for 1 minute.

Add chicken chunks and toss lightly to coat with the curry oil mixture.

Reduce heat to medium, and cook for 7 to 10 minutes, or until chicken is no longer pink in center and juices run clear.

Pour coconut milk, diced tomatoes, tomato sauce, and sugar into the pan, and stir to combine. Cover and simmer, stirring occasionally, approximately 30 to 40 minutes.

Serve immediately, over rice. Enjoy!
Notes
If you find that there is too much sauce for your taste, you can simmer for longer to reduce the sauce to the desired amount.
I used Thai Kitchen coconut milk . The coconut milk was quite thick out of the can.
A few people are wondering the type of curry powder I used. I used McCormick brand and is simply labeled as "Curry Powder". (example here)
Recipe source: All Recipes
Nutrition
Calories:
412
kcal
Carbohydrates:
16
g
Protein:
37
g
Fat:
23
g
Saturated Fat:
14
g
Cholesterol:
94
mg
Sodium:
322
mg
Fiber:
4
g
Sugar:
12
g
Nutrition Facts
Coconut Curry Chicken
Amount Per Serving
Calories 412
Calories from Fat 207
% Daily Value*
Fat 23g35%
Cholesterol 94mg31%
Sodium 322mg14%
Carbohydrates 16g5%
Protein 37g74%
* Percent Daily Values are based on a 2000 calorie diet.