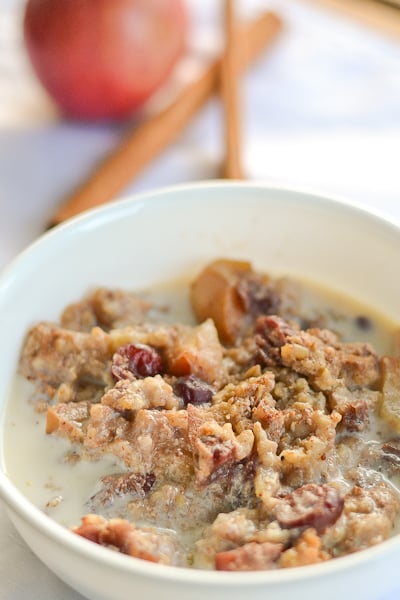 My family has been eating steel cut oatmeal for breakfast for so many years now. Steel-cut oats take a longer time to cook on the stove compared with the regular oats. So, what I have been doing is cooking it on a double boiler in the slow cooker overnight. All I have to do the next morning is add soy milk, honey and flax seed to it.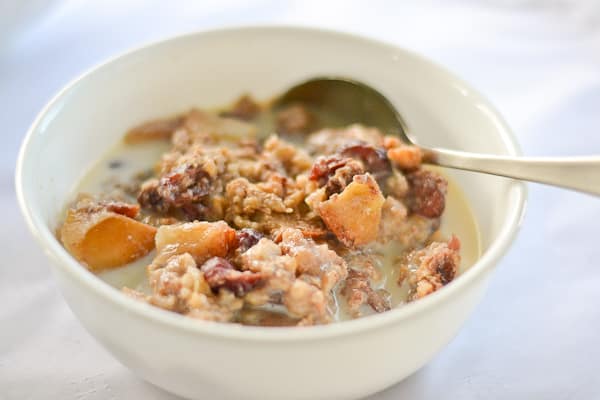 I wanted to try something new, so when I saw this recipe on a magazine, I decided to give it a try. I don't have a programmable slow cooker so I made this oatmeal the night before. The steel-cut oats, along with the rest of the ingredients is slowly cooked for 6 hours. The cooked oats were thick and smelled wonderful. I let it cool and refrigerate it overnight. The next morning, I scooped a cup of the cold oats in a bowl, added 1/3 cup of soy milk, heated it in the microwave for 1 minute, stirred and tried it. It tasted good and very flavorful compared to the one I usually had. I could taste the apples, cinnamon and cranberries in every spoonful. My family and I enjoyed this healthy and filling breakfast; I am pretty sure you will too!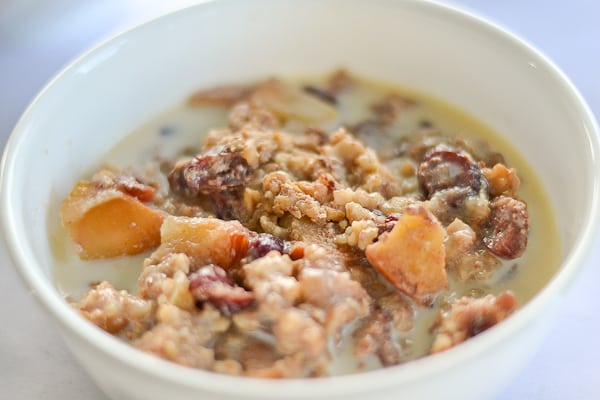 Slow Cooker Apple-Cinnamon Steel-Cut Oatmeal
Ingredients
1 cup steel-cut oats
3 cups soy milk (or fat free milk)
½ cup brown sugar
2 tablespoons unsalted butter, melted
1 teaspoon cinnamon
2 apples, chopped
¼ cup dried cranberries
2 cups water
½ teaspoon salt
Instructions
Coat a 3 ½ quarts slow cooker with cooking spray. Add all the ingredients and mix well. Cook on low for 6 hours.
Serve with fruit or chopped nuts.
Enjoy!
Notes
Recipe adapted from : Prevention Guide: Slow Cooker So Easy!