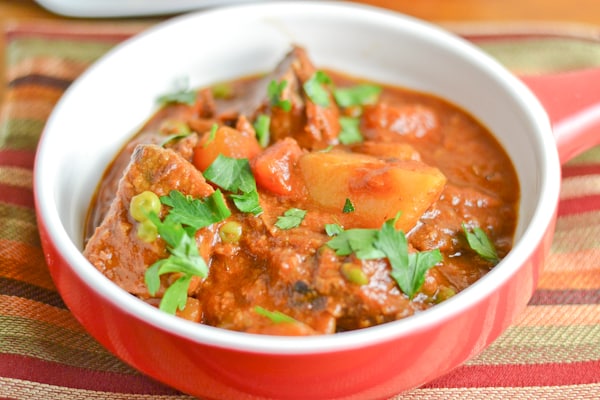 I have to stay an extra hour at work every Wednesday. I don't usually have time to cook dinner so normally, I would order take-out but this past Wednesday, I was able to make beef and vegetable stew using a slow cooker. I was able to make the dish by preparing the ingredients the night before. I browned the beef, sautéed the onion and garlic and sliced the vegetables. All I had to do in the morning was to put all the ingredients in the slow cooker. I turned the slow cooker on before I left for work and dinner was ready when I got home.
The beef and vegetables came out tender and the sauce had that rich and hearty texture. My family and I enjoyed this comforting dish with steamed rice. Satisfyingly delicious!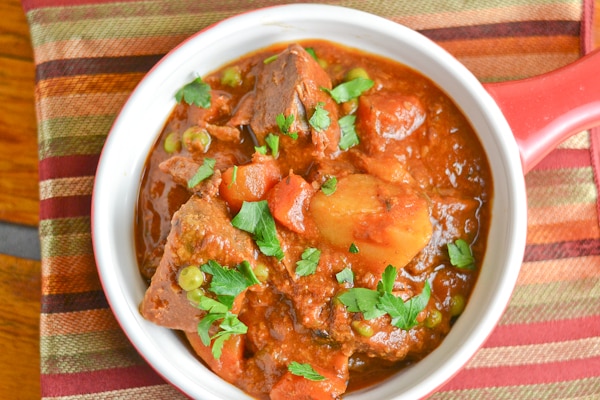 Slow Cooker Beef and Vegetable Stew
Ingredients
1 ¼ lb stewing beef, cut into 1-inch cubes
3 tbsp all-purpose flour
4 tbsp vegetable oil, divided
1 large onion, chopped
2 cloves garlic, grated or minced
1 carrot, cut into 1-inch pieces
1 large potato, cut into 1-inch pieces
1 cup beef broth
1 (156ml) can tomato paste
1 tsp dried thyme
½ tsp salt
2 bay leaves
½ cup frozen peas
2 tsp Worcestershire sauce
Instructions
Pat beef dry with paper towels. Season with salt and pepper; toss with flour in a large bowl until coated.
Heat a large pan over medium-high. Add 2 tablespoons oil, then half of the beef. Cook until brown on all sides. Transfer to slow cooker insert. Repeat with 1 tablespoon oil and remaining beef.
Add remaining 1 tablespoon oil to now empty pan, then add onion and garlic. Cook for 3 minutes. Transfer to slow cooker along with carrot, potato, broth, tomato paste, thyme and salt. Stir in bay leaves. Cover and cook on low until beef is tender, 6 to 8 hours.
Remove and discard bay leaves. Stir in peas and Worcestershire sauce. Serve over rice or bread.