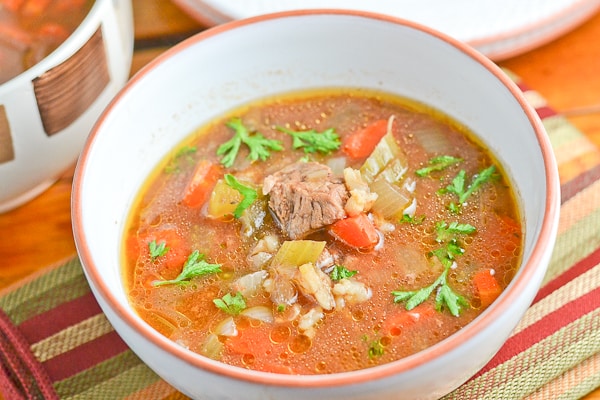 This beef and barley soup cooked in a crockpot is incredible. There are not enough words to describe how good and tasty this soup is. The beef marrow bones that were added and slowly cooked with the rest of the ingredients made a lot of difference to the overall taste of the dish. After 7 hours of cooking in the crockpot, the beef came out nice and tender. The broth was delicious, rich, and flavorful and had the perfect consistency. There were just enough vegetables and barley in the soup. My family really enjoyed this satisfying and comforting soup. It will definitely be added to our list of favorite crockpot recipes. Enjoy!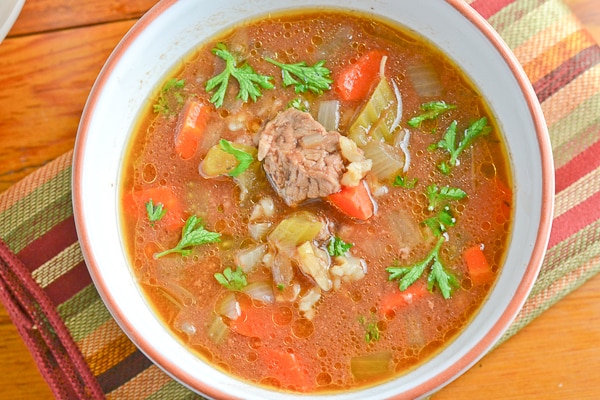 Slow Cooker Beef and Barley Soup
Ingredients
1-1/2 lb stewing beef cubes
3 beef marrow bones or soup bones
1 cup diced onions
1 cup diced carrots
1 cup chopped celery
1 clove garlic, minced
5 cups water
1 cup bottled strained tomatoes (passata) or regular tomato sauce
2 tbsp tomato paste
2 tbsp soy sauce
1 bay leaf
½ cup pot barley or pearl barley
¾ tsp salt
½ tsp dried thyme
¼ tsp pepper
Instructions
Place beef cubes in slow cooker. Add beef bones, onions, carrots, celery and garlic.
In a bowl, whisk together water, strained tomatoes, tomato paste and soy sauce. Pour over meat mixture. Add bay leaf, barley, salt, thyme and pepper.
Cover and cook on low until beef is tender, 6 to 8 hours. Discard bones and bay leaf.