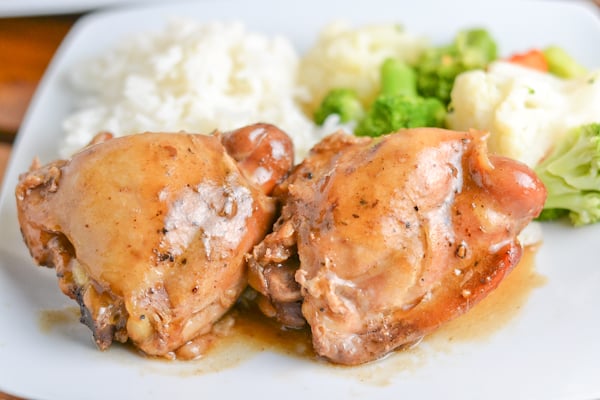 This past weekend was rainy, cold and dreary here in Vancouver. I spent most part of Sunday in the kitchen, baking and making some comforting food. Aside from soup and banana bread, I made this delicious slow cooker chicken dish for my family.  The seasoned chicken thighs were slowly cooked in a mixture of brown sugar, pineapple juice and soy sauce. I made some changes to the original recipe by reducing the amount of soy sauce and increasing the amount of spices. After five hours of cooking, the chicken came out tender, moist and very tasty. The sauce with its sweet-salty-tangy taste reminds us of a popular Filipino dish, chicken adobo. We enjoyed this simple satisfying dish with steamed rice and slices of tomato. Enjoy!
Slow Cooker Brown Sugar Chicken
Ingredients
3 lbs boned-in skinless chicken thighs (10 pieces)
Sea salt and freshly ground pepper
½ tsp of Creole or Cajun seasoning
½ tsp garlic powder
½ cup light brown sugar, packed
¾ cup pineapple juice
¼ cup soy sauce
2 tbsp cornstarch
2 tbsp water
Instructions
Season chicken pieces with salt and pepper. In a small bowl, mix together Cajun seasoning and garlic powder. Sprinkle seasoning over chicken pieces and then place chicken into the slow cooker.
In a bowl, whisk together the brown sugar, pineapple juice and soy sauce; pour over and around chicken. Cover and cook on low for about 5 hours. Using a tong, transfer chicken from the slow cooker to a platter and loosely tent with aluminum foil.
Prepare the sauce: Transfer remaining mixture from the crockpot to a saucepan and place on the stovetop. Turn the heat to medium high and let the mixture comes to a boil. Whisk together the water and cornstarch until there are no lumps. Slowly stir into the boiling sauce until fully incorporated and continue boiling for about 3 to 4 minutes or until mixture thickens.
Brush the sauce over each chicken thigh and serve the remaining sauce at the table.