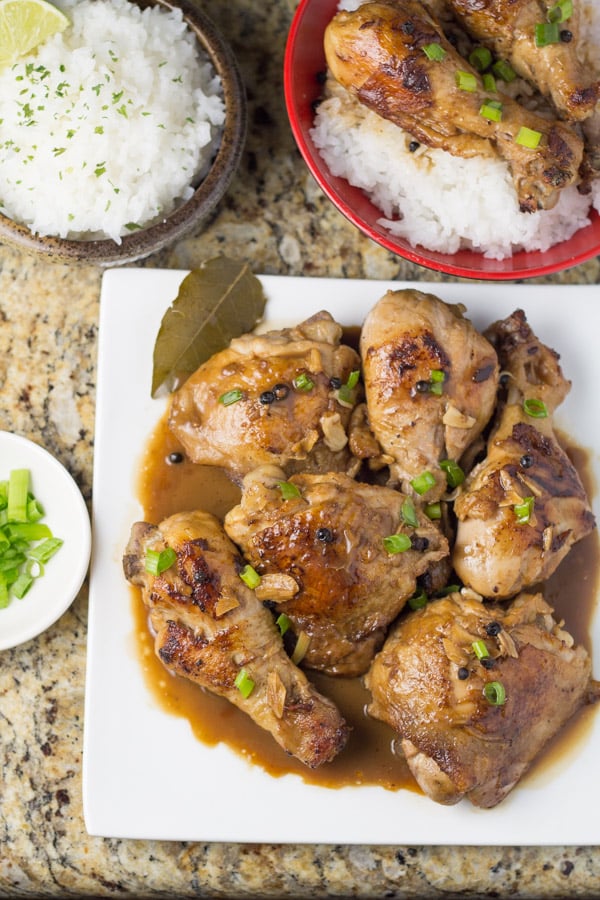 Chicken adobo is another popular Filipino dish.  It traditionally consists of chicken pieces slowly cooked in garlic, vinegar, bay leaf, black peppercorns and soy sauce. The meat is then browned in oil and served with the reduced sauce. Every Filipino has his/her own way of cooking chicken adobo.  Some used onions, brown sugar, pineapple or coconut milk.  It depends on the region or on one's personal preference.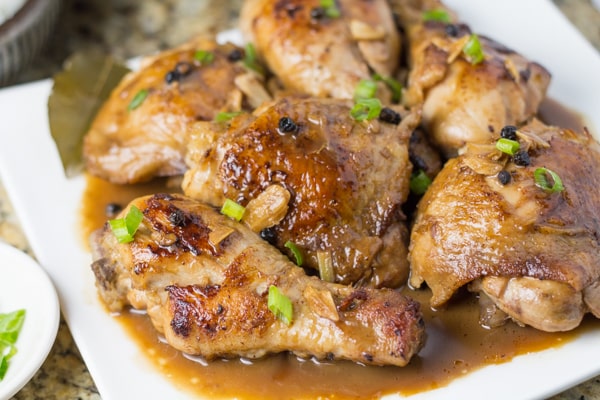 This recipe is quite different to the traditional chicken adobo. The chicken pieces are first marinated in vinegar and a mixture of spices for 2 hours, slowly cooked in the marinade and then browned in oil.  The addition of coriander  and annatto seeds give this adobo dish its warm, spicy-sweet scent, distinct yellow color and its slightly lemony flavor.  This dish is so delicious and flavorful that you will be proud to take to any potluck 🙂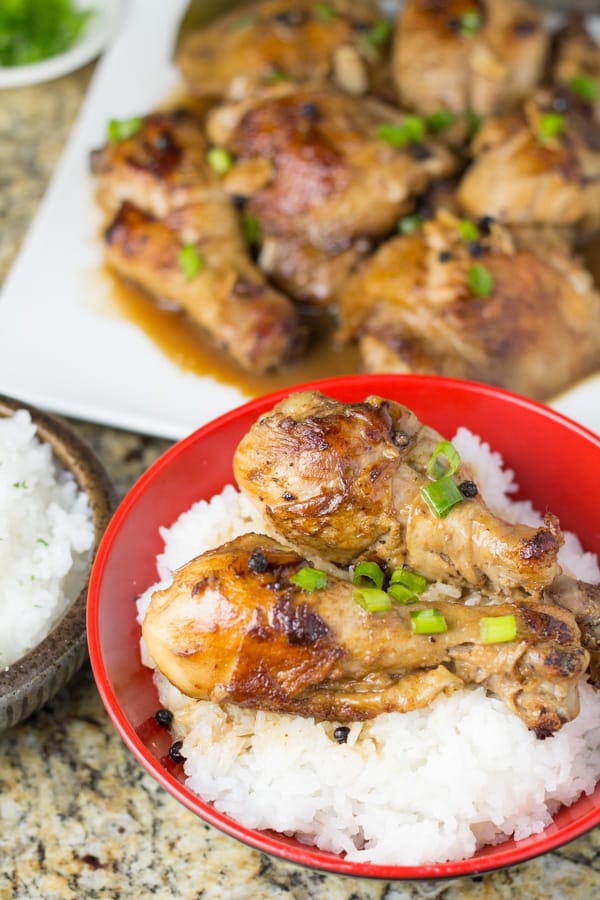 Chicken Adobo
Chicken Adobo is a classic Filipino dish consisting of chicken pieces cooked in a tangy sauce.
Ingredients
6

cloves

garlic

crushed

1

cup

white vinegar

1 ½

cups

chicken stock

1

bay leaf

1

teaspoon

coriander seeds

1

teaspoon

black peppercorns

1

teaspoon

annatto seeds

3

tablespoons

soy sauce

1

kg

chicken pieces

2

tablespoons

oil
Instructions
Combine the garlic, vinegar, chicken stock, bay leaf, coriander seeds, black peppercorns, annatto seeds and soy sauce in a large bowl. Add the chicken, cover and leave to marinade in the refrigerator for 2 hours.

Transfer the chicken mixture to a large heavy-based pan and bring to a boil. Reduce the heat, cover and simmer for 30 minutes or until tender. Gently turn chicken occasionally during course of cooking.

Remove the chicken from the pan. Set aside the sauce.

Heat the oil in a non-stick frying pan, add the chicken in batches and cook over medium heat until chicken are crisp and brown.

Pour the sauce over the chicken pieces and serve with rice.

Enjoy!
Notes
This recipe is adapted from "The Essential Asian Cookbook"
Annatto seeds may be purchased at any local Filipino store. If it is not available, substitute ¼ teaspoon paprika combined with a generous pinch of turmeric.