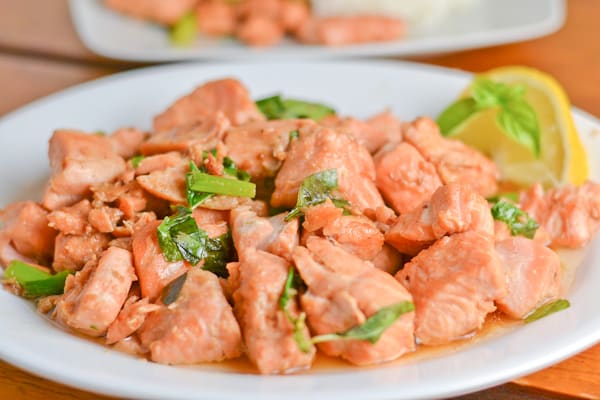 Salmon is a staple at my house so I am constantly looking for new salmon recipes.  This salmon with oyster sauce and basil recipe caught my attention because it is different from my usual way of cooking salmon. I would normally bake or pan-fry salmon as a fillet, but in this recipe, the salmon fillet is cut into cubes, coat with oyster sauce and pan-fried.  It is then finished cooking in a mixture of white wine and water. Fresh chopped basil is later added at the end of cooking. The salmon cubes were perfectly cooked. They were tender, moist and delicious. The combination of oyster sauce and basil gives this dish a unique taste and flavor. It reminds me of one of my favorite dishes, Fried Eggplant with Basil which uses oyster sauce and basil as well. My family loves this salmon dish so much; I have already cooked it twice in the past two weeks. We enjoyed this satisfying dish with steamed rice and vegetables. Yummy!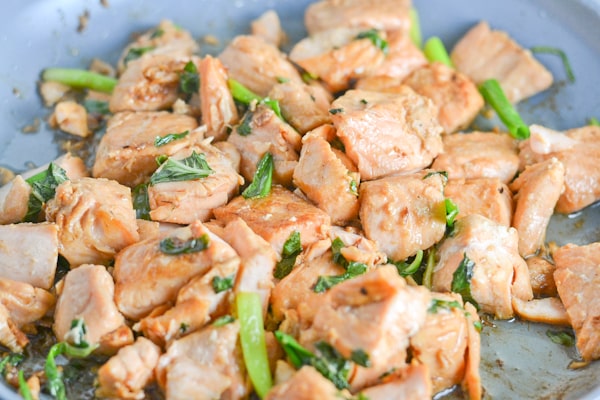 Salmon with Oyster Sauce and Basil
Ingredients
1½ pounds skinless salmon fillet, cut into 1½-inch cubes
2 tbsp oyster sauce
Sea salt and freshly ground pepper
1 tbsp vegetable oil
4 green onions, cut into 1-inch lengths
1 tbsp dry white wine
2 tbsp water
3 tbsp chopped fresh basil
Instructions
In a large bowl, toss the salmon cubes with the oyster sauce; season lightly with salt and pepper.
In a large non-stick skillet, heat the oil. Add the salmon and cook over medium high heat, turning once, until browned but barely cooked through, about 6 minutes.
Reduce the heat to medium; add the wine, water and green onions; gently stir and let simmer for a minute or until the salmon is just cooked through. Stir in the basil.
Served with steamed rice and vegetables.