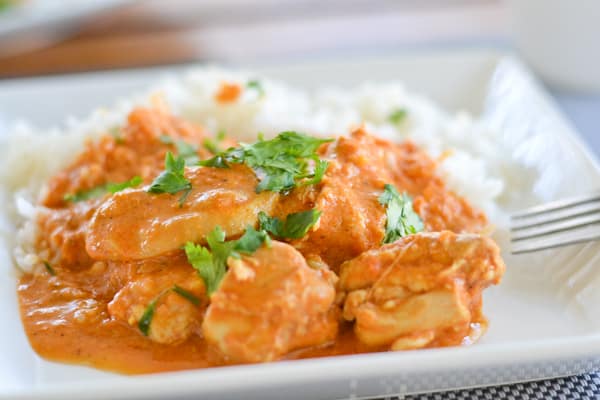 I love this recipe. Not only is it one of my family's favorite chicken dishes, but it is also a healthier version of the dish. It uses less butter, less sodium and uses sour cream in place of heavy cream. Furthermore, it is cooked in a slow cooker, which is a convenient way to cook a meal for a busy person like me. Butter chicken, along with tandoori chicken is a very popular chicken dish in the Indian cuisine. The sauce, which consists of aromatic spices, sugar, butter, tomatoes, broth and almond butter is first slowly cooked for 5 hours and then pureed, after which the chicken pieces were added and cooked for another hour. Lastly sour cream was added to thicken the sauce, resulting in a creamy and aromatic dish.  Although this recipe is not the typical way of cooking butter chicken, it turned out really good. My family enjoyed this dish with steamed rice; a sprinkle of chopped cilantro further enhances the flavors of this dish. Delicious! 😀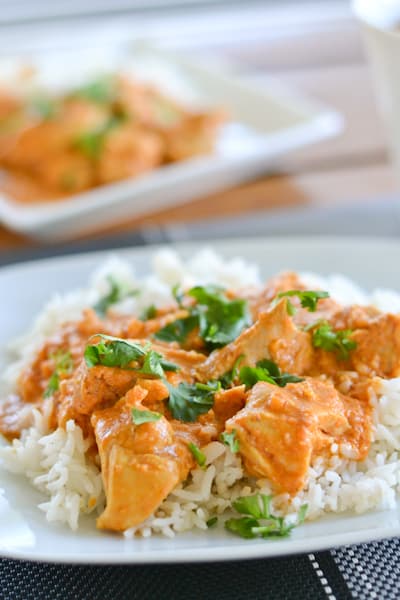 Slow Cooker Butter Chicken
Ingredients
2 onions, diced
3 cloves garlic, minced
3 tbsp (45 mL) butter
2 tbsp (30 mL) grated fresh ginger
2 tbsp (30 mL) packed brown sugar
2 tsp (10 mL) chili powder
¾ tsp (4 mL) ground coriander
¾ tsp (4 mL) ground turmeric
½ tsp (2 mL) cinnamon
½ tsp (2 mL) ground cumin
½ tsp (2 mL) salt
½ tsp (2 mL) pepper
1 can (28 oz/796 mL) diced tomatoes
1 cup (250 mL) sodium-reduced chicken broth
¼ cup (60 mL) almond butter or cashew butter
3 lb (1.4 kg) boneless skinless chicken thighs, quartered
1 cup (250 mL) sour cream
2 tbsp (30 mL) chopped fresh cilantro
Instructions
In slow cooker, combine onions, garlic, butter, ginger, brown sugar, chili powder, coriander, turmeric, cinnamon, cumin, salt, pepper and tomatoes.
Whisk broth with almond butter; pour into slow cooker.
Cover and cook on low for 5 hours or for up to 8 hours.
With immersion blender, puree sauce until smooth. Add chicken; cook, covered, on high until juices run clear when chicken is pierced, 50 to 60 minutes.
Stir in sour cream. Serve sprinkled with cilantro.
Notes
Recipe source: canadianliving.com

Almond or cashew butter may be purchased in a jar (like peanut butter) at the natural or organic section of most grocery stores. Here in Canada, I bought mine at the natural food section of Save-on Foods.