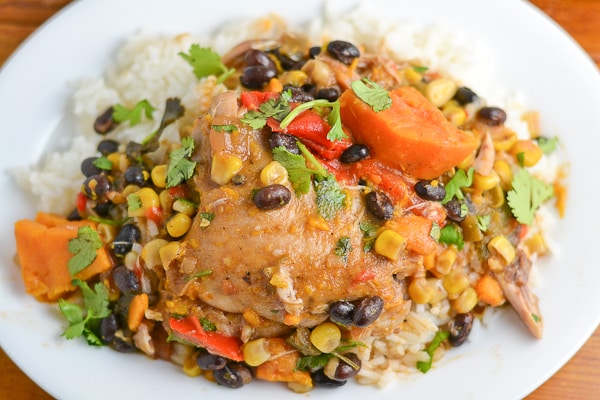 Delicious, hearty and satisfying, this is how I would describe this slow cooker chicken dish that I made last week.  My son in Calgary made it so many times, I had to make it myself to see why he loves it so much. After five hours of slow cooking, the chicken and potato were very tender and tasted so good. The addition of black beans and kernel corn made it even better, in texture and in taste. The spices used were not too strong but just enough to give this wonderful dish a distinct flavorful taste. As suggested by my son, I had this dish with steamed rice and a sprinkle of lime juice and fish sauce over it. Yummy!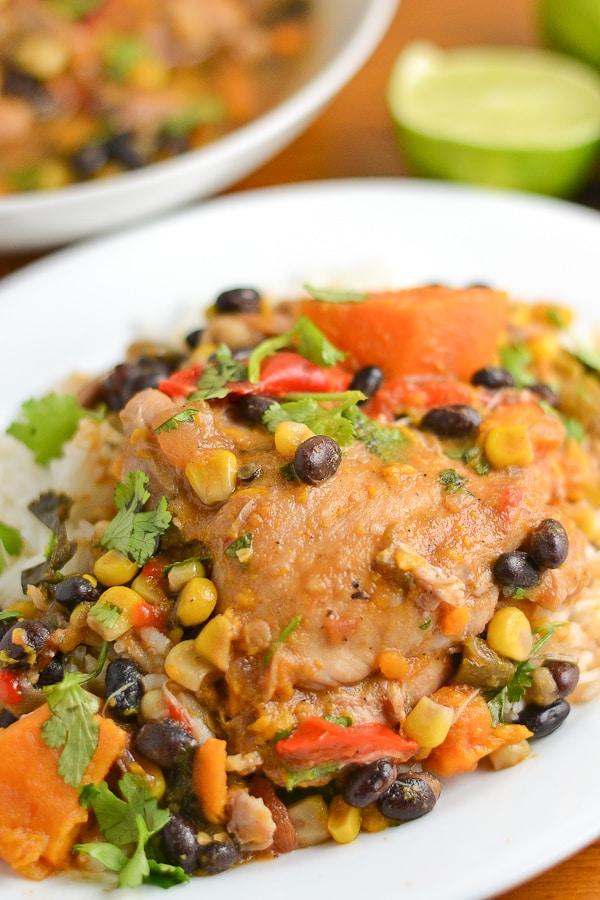 Slow Cooker Latin Style Chicken
Ingredients
1 tbsp olive oil
3 lbs skinless bone-in chicken thighs
Salt and ground black pepper to taste
½ cup chopped cilantro leaves, divided
1 large sweet potato, cut into chunks
1 red bell pepper, cut into strips
1 (18.25 oz) can black beans, rinsed and drained
1 (341 ml/11.53 oz) can peaches and cream whole kernel corn (canned corn),drained
1 cup chicken broth
1 cup mild salsa
2 tsp ground cumin
½ tsp ground allspice
3 large cloves garlic, chopped
Instructions
Heat the olive oil in a large skillet; season the chicken thighs with salt and pepper. Sprinkle ¼ cup cilantro over the chicken thighs; brown the chicken in the frying pan, 3 to 5 minutes each side.
Arrange the chicken in the bottom of a slow cooker. Place the sweet potatoes, red bell pepper, black beans and kernel corn on top of the chicken. Mix together the chicken broth, ¼ cup cilantro leaves, salsa, cumin, allspice, and garlic together in a bowl; pour into the slow cooker. Set slow cooker to LOW and cook for 5 hours.
Optional: If you want a thicker sauce, whisk 2 tbsp flour in 2 tbsp water; stir into slow cooker. Cover and cook on low for another 15 minutes or until sauce thickens.
Serve over steamed rice. Sprinkle with lime juice and chopped cilantro.
Enjoy!