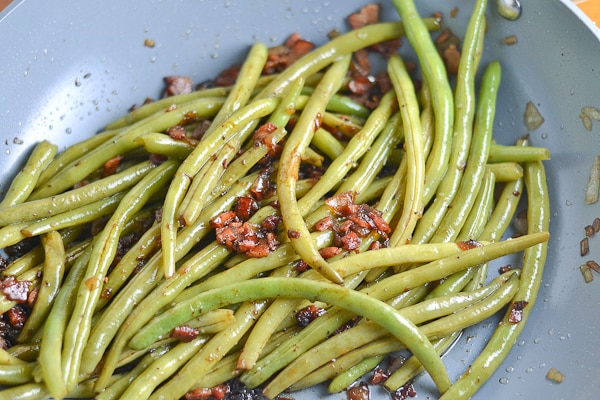 Last night was the first time I cooked dinner since Easter Sunday. My family and I were eating left-over Easter dinner for a few days. It was nice to have a break from cooking but it was good to have a freshly cooked meal at the dinner table again. It was a quiet night though; it was only me and my oldest son at home. I made our favorite fried pork chops and these balsamic green beans to go with it. I found the recipe on dariuscooks and decided to try it. I was at our local bakery/deli the day before yesterday and found this smoked bacon amongst the sandwich meats. I decided to use them for this recipe. The crispy diced smoked bacon, along with the balsamic vinegar, made this simple green beans dish taste so great. Enjoy!
Balsamic Green Beans with Bacon
Serves:
4 (side dish) servings
Ingredients
1 cup diced bacon (I used smoked bacon)
1 onion, chopped
2 cloves garlic, minced
1 lb fresh green beans, trimmed
1 tsp salt
½ tsp freshly ground pepper
½ tsp sugar
2 tbsp olive oil
¼ cup balsamic vinegar
Instructions
Sauté the bacon, onion, and garlic together in the olive oil until the bacon is just about done, about 5-7 minutes.
Toss in the green beans; season with salt, pepper, and sugar. Cook, stirring frequently until green beans are tender.
Finish by adding the balsamic vinegar during the last 3 minutes of cooking.