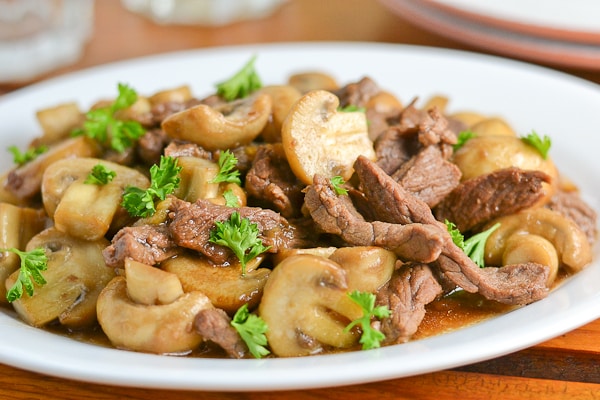 These past couple of weeks, I have been going back to my roots in terms of cooking. I have been trying recipes that combined what I have learned from my mom and dad. This stir-fried beef with mushrooms recipe is a product of those experiments.  I used sirloin beef and mushroom because they are my family's favorites and they only take minutes to cook. Marinating the strips of beef in lemon juice and soy sauce is my mom's way of marinating any meat. Pork chops, chicken legs and liver are some of the few that she uses this marinade for. Flavoring the stir-fry with oyster sauce on the other hand, is my dad's influence.  I always love my dad's version of adobo with oyster sauce. I have cooked it many times for my family and it has since become one of our favorites. This sirloin beef with mushrooms is another favorite. The beef was so tender and tasty and goes well with the mushroom. Together they taste great!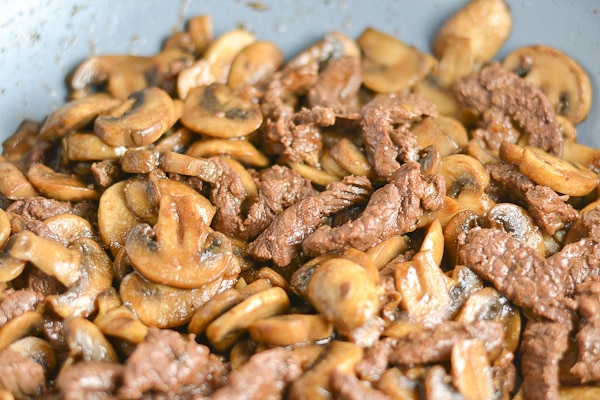 Beef and Mushroom Stir Fry
Ingredients
1 lb beef sirloin steak
2 tbsp lemon juice
2 tbsp soy sauce
4 tbsp olive oil, divided
2 cloves garlic, chopped
2 lbs white mushrooms, sliced
2-3 tbsp oyster sauce
Sesame oil (optional)
Instructions
Slice beef into thin, narrow strips. Put in a bowl with lemon juice and soy sauce; mix well. Let marinate for at least 10 minutes.
Heat wok or skillet over medium high heat. Add 2 tbsp olive oil, rotate to coat sides of skillet.
Add beef and marinade; stir fry for 5 minutes or until liquid has evaporated and beef is browned. Transfer beef to a plate and set aside.
Using the same skillet, add remaining 2 tbsp oil. Add garlic and mushrooms; stir-fry for 8-10 minutes or until mushrooms are tender.
Add browned beef and oyster sauce; stir until heated through. Sprinkle with sesame oil, if using.
Serve over steamed rice. Enjoy!