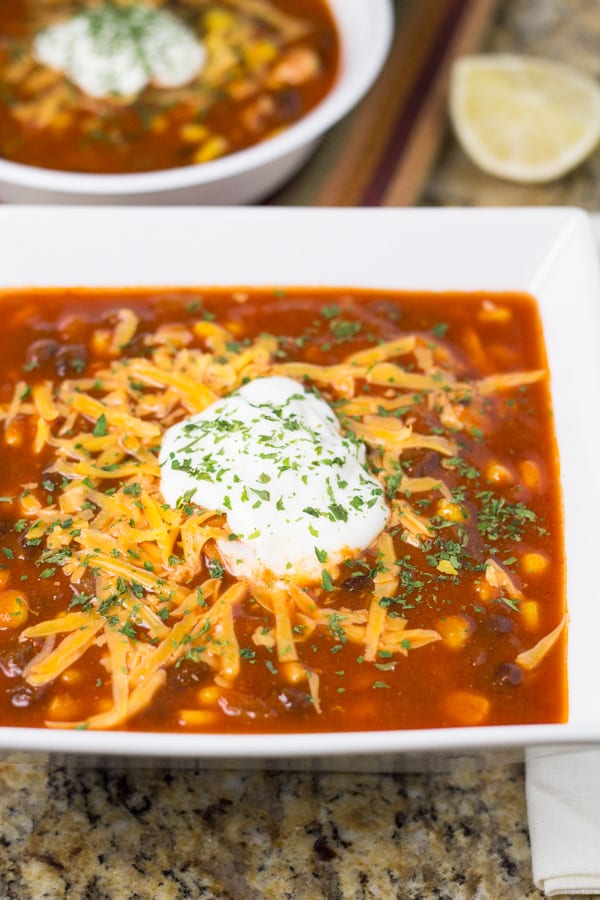 With Cinco De Mayo in a couple of days, I was inspired to make this slow cooker Mexican chicken soup. This dish is incredibly easy to make because it makes use of a lot of pre-made ingredients such as taco seasoning, salsa and V8 juice. By using these ingredients, it saves some preparation and cooking time without sacrificing any flavor.
First, the chicken is cooked in a skillet along with the taco seasoning. Then the chicken is put into the crockpot with the V8, salsa, beans and corn. The soup is ready after cooking it for 3 hours, but it can be cooked for longer than that if you want thicker soup. Serve it with a dollop of sour cream, cheddar cheese and cilantro and you have an incredibly flavorful Mexican inspired soup dish. Enjoy and happy Cinco De Mayo!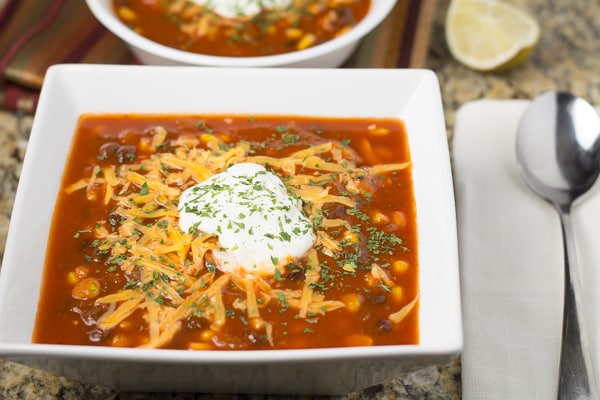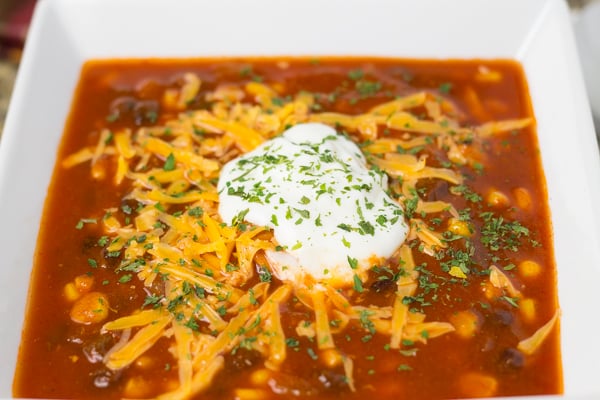 Slow Cooker Mexican Chicken Soup
Ingredients
Soup
1 lbs of boneless skinless chicken breasts, cubed
2 tsp canola oil
½ cup of water
1 envelope (1.25 oz, or 35 g) of reduced-sodium taco seasoning
1 can (32 oz) of reduced-sodium V8 juice
1 jar (16 oz) of salsa
1 can (15 oz) of black beans, rinsed and drained
1 ¼ cup of frozen corn
Garnish
Reduced-fat cheddar cheese
Reduced-fat sour cream
Cilantro
Instructions
In a large non-stick skillet, heat 2 tsp of canola oil on medium-high heat. Saute cubed chicken until no longer pink.
Add the water and taco seasoning and simmer, uncovered until the chicken is coated.
Transfer the chicken into the slow cooker. Stir in the V8, salsa, beans and corn. Cover and cook on low for at least 3 hours. Cooking it longer will yield thicker soup.
Serve and garnish with a dollop of sour cream, grated cheddar cheese and cilantro.