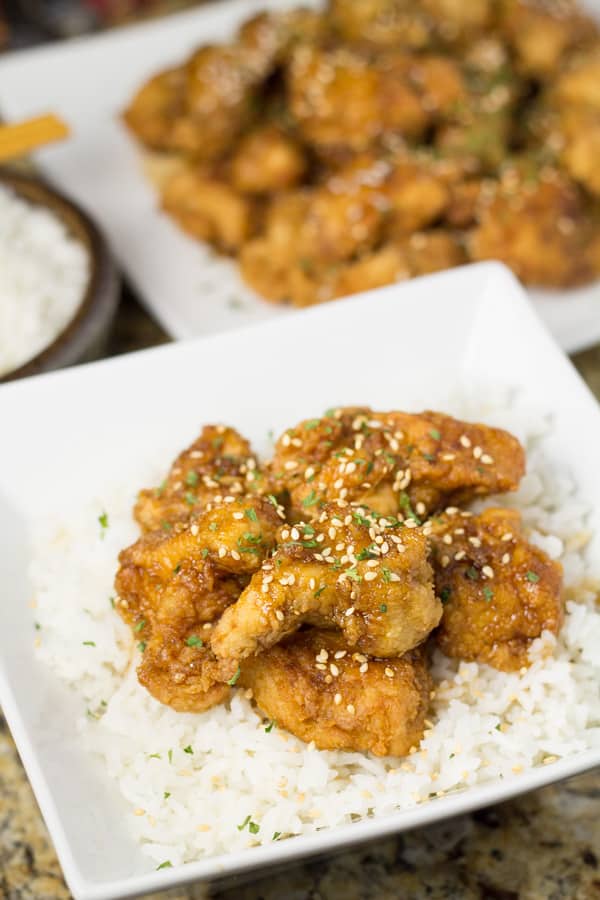 This delicious honeyed chicken teriyaki dish consists of little nuggets of chicken, fried and then baked with a honey and soy glaze. You may omit the baking part because fried chicken nuggets with the honey and soy mixture as a dipping sauce is already an appealing meal to impatient kids like mine. On the other hand, dipping the fried nuggets in the glaze and baking them makes the chicken more flavorful.  This delightful chicken dish may be served as an entree or hors d'oeurves.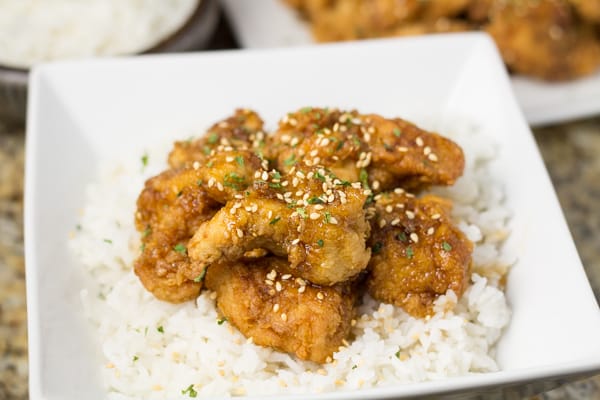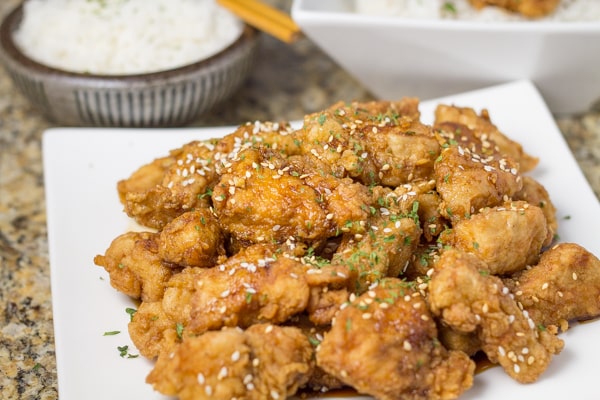 Honeyed Chicken Teriyaki
Ingredients
2 lbs boneless chicken breasts
½ cup all-purpose flour
½ teaspoon salt
⅛ teaspoon pepper
2 eggs, beaten
Oil for frying
Glaze:
⅓ cup soy sauce
⅓ cup honey
1 tablespoon dry sherry
1 clove garlic, minced or pressed
1 teaspoon grated fresh ginger
2 tablespoons sesame seeds (optional)
Instructions
Cut chicken in 1-inch squares.
Combine flour, salt, and pepper. Dip chicken in eggs, then coat with seasoned flour.
Pour ½ inch oil in a wide frying pan; place over medium-high heat.
When oil is hot, add chicken, half at a time. Cook, turning as needed, until chicken is golden brown (around 6-8 minutes).
Meanwhile, heat soy sauce, honey, sherry, garlic and ginger in a small pan.
Lift chicken from oil. Drain briefly and dip in honey mixture, then place on a rack set in a baking pan. When all chicken is cooked and dipped, sprinkle with sesame seeds, if used.
Bake at 250°F for 20 minutes. Brush with glaze after 10 minutes.
You can serve this as is or with the glaze as a dipping sauce (just like my kids do)
Enjoy!
Notes
Recipe source: Great American Recipes

Check out some of my other Asian inspired chicken dishes.
Sticky Honey Sesame Drumsticks