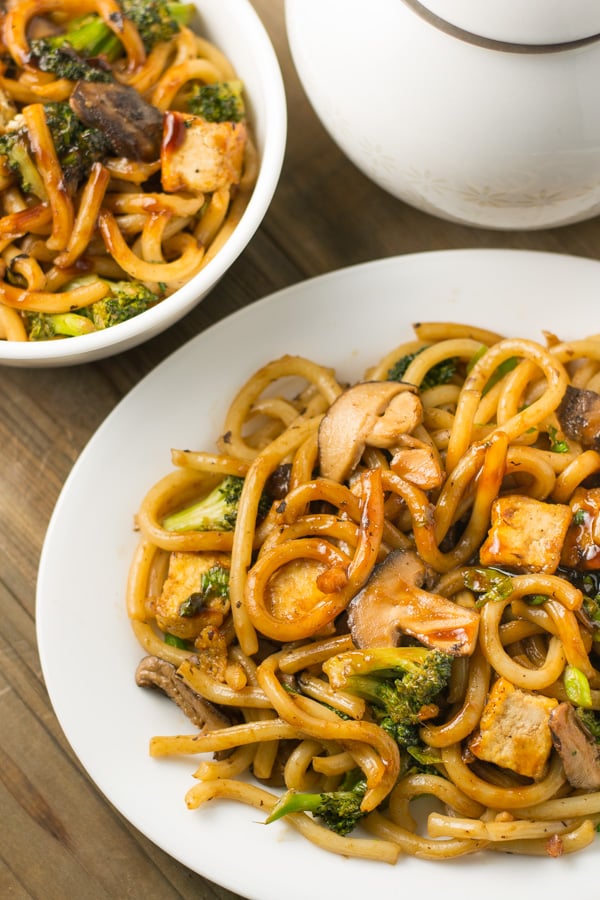 My family loves this stir fried noodles dish. It is not only delicious but also consists of fresh and nutritious vegetables like shiitake mushrooms and broccoli. It uses two of our favorite ingredients: tofu and udon noodles. The vegetables were stir-fried with the aromatics first and then cooked with the noodles and browned tofu. Seasonings like hoisin sauce, soy sauce, sriracha and sesame oil complete this dish. The variety of ingredients in this recipe makes this vegetarian dish a complete meal on its own. Enjoy!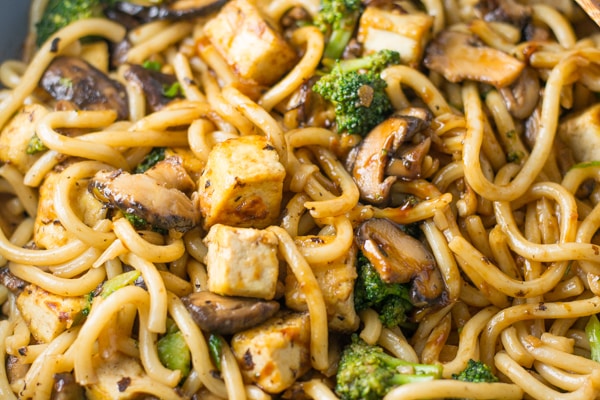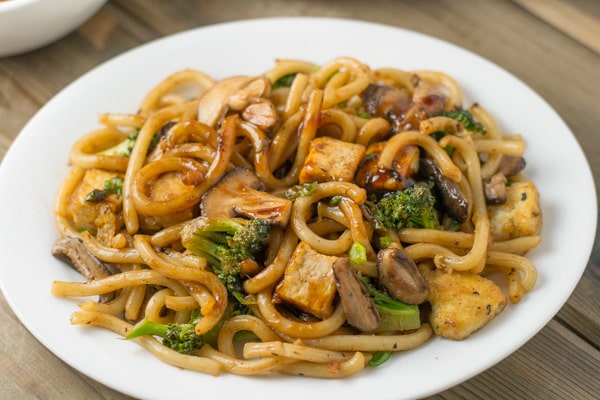 Stir Fried Noodles with Crispy Tofu
Ingredients
1 pkg (350 g) firm tofu, drained and cut in 3⁄4-inch (2 cm) cubes
1 tbsp cornstarch
6 tsp vegetable oil, divided
1 pkg (227 g) fresh shitake mushrooms, thinly sliced
4 cloves garlic, minced
1 tbsp grated peeled fresh ginger
3 cups bite-size broccoli florets
3 tbsp hoisin sauce
1 tbsp soy sauce
1 tsp Asian chili sauce, (such as sriracha)
3 pkg (each 200 g) fresh Udon noodles
2 green onions, thinly sliced
1 tsp sesame oil
Instructions
Pat tofu dry and toss gently with cornstarch to coat. In a wok or large non-stick skillet, heat 4 teaspoons vegetable oil over medium-high heat; cook tofu, turning occasionally, until crisp and golden, 8 to 10 minutes. Transfer to paper towel-lined plate to drain. Set aside.
In same wok, heat remaining 2 teaspoons vegetable oil over medium-high heat; stir-fry mushrooms, garlic and ginger until mushrooms are beginning to soften, about 2 minutes. Add broccoli; stir-fry until tender-crisp, about 3 minutes. Stir in hoisin sauce, soy sauce, chili sauce and ¾ cup water; bring to boil.
Reduce heat to low; add noodles, tossing gently to coat. Simmer, stirring gently, until sauce is slightly thickened, about 2 minutes. Add tofu, green onions and sesame oil; cook, tossing to coat, for 1 minute.