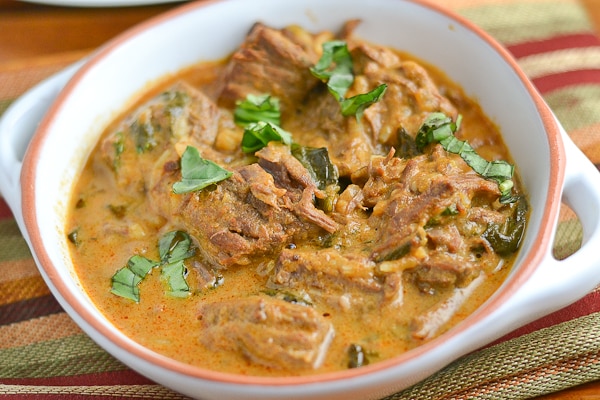 It seems that crockpot recipes are becoming popular again. I stopped using mine for a while but my son in Calgary inspired me to use it again. He has been using his slow cooker every weekend to do most of his cooking. He tried different new recipes and each time he would send pictures to me. One of those was this Thai red curry beef which he loved and suggested that I should try making. I got the chance to make it Monday night. I prepared everything and turned on the crockpot before I went to bed. The beef came out tender, tasty and the sauce was to die for. My family and I enjoyed this delicious and aromatic dish with steamed rice. I had one complaint from my husband though: the house smelled of food being cooked while we were sleeping. Although the smell was good, it really bothered my husband and he kept waking up from the smell. Next time I make an aromatic dish on my slow cooker, I will make it during the day.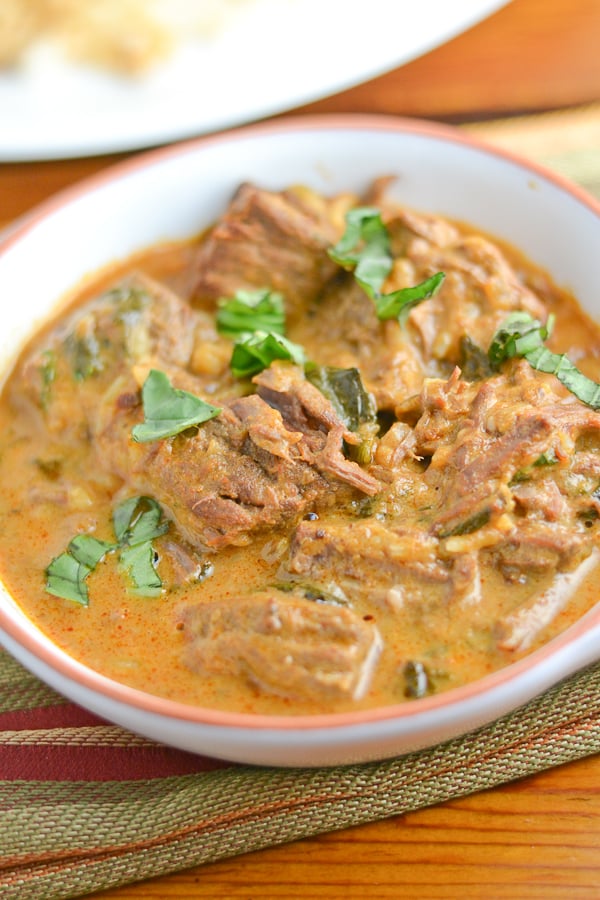 Slow Cooker Thai Red Curry Beef
Ingredients
2 lbs lean beef stew meat
⅛ tsp salt
1 large onion, finely chopped
4 garlic cloves, minced
¾ cup lower-sodium beef broth
1 tbsp brown sugar
3 tbsp red curry paste
2 tbsp fish sauce
2 tbsp fresh lime juice
1 (398 ml) can light coconut milk
1 tbsp sriracha, or to taste
2 tbsp all-purpose flour
2 cups bagged baby spinach leaves
Fresh basil leaves, chopped
Instructions
Heat a large non-stick skillet over medium-high heat. Add beef; cook 8-10 minutes or until browned, stirring occasionally. Drain. Place beef in a 4-quart electric slow cooker; sprinkle with salt.
Return pan to medium-high heat. Add onion and garlic; sauté 5 minutes or until tender. Spoon onion mixture over beef.
In a medium bowl, combine beef broth, sugar, curry paste, fish sauce, lime juice, coconut milk and sriracha; pour over beef. Cover and cook on LOW for 6-7 hours.
Stir in spinach. Whisk flour in 2 tablespoons water; stir into slow cooker. Cover and cook on LOW for 15 minutes or until sauce thickens.
Serve beef mixture over steamed rice; sprinkle with basil leaves.