I had a wonderful and relaxing Mother's day weekend! I hope every mother got pampered and felt loved and appreciated on this special day.  Mother's day celebration started on Friday with a dinner at a favorite Chinese Restaurant followed by a takeout dinner on Saturday from my favorite Greek Restaurant and ended on Sunday with a pasta dinner prepared by my youngest son. He made this Spaghetti Alle Vongole dish which was simply dressed with olive oil, garlic, clams, parsley and a splash of white wine.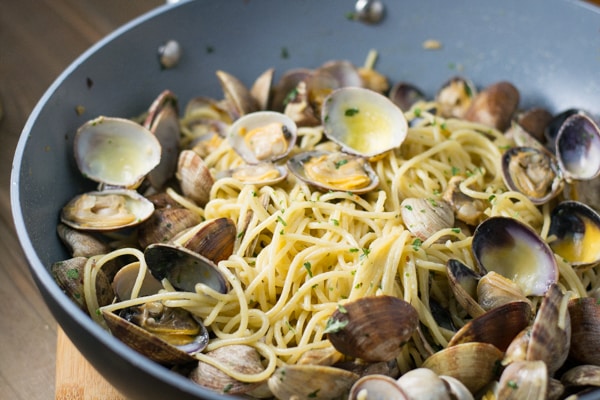 There's no salt and pepper used in this dish except for the amount put into the boiling water to cook the spaghetti noodles. The rest of the flavor in this delicious dish came from the two pounds of fresh clams and the chopped fresh parsley. This spaghetti alle vongole is simple, delicious and very satisfying. Love it!
Spaghetti Alle Vongole
Ingredients
Kosher salt
6 oz spaghetti
4 tbsp extra-virgin olive oil, divided
1 garlic clove, thinly sliced
¼ tsp crushed red pepper flakes
¼ cup white wine
2 lbs Manila clams, scrubbed
2 tbsp roughly chopped fresh flat-leaf parsley
Instructions
Cook the pasta in salted boiling water until just about tender. Drain, reserving ½ cup pasta cooking water.
Meanwhile, heat 3 tablespoons oil in a large skillet over medium heat. Add garlic and cook, swirling pan often, until just golden. Add red pepper flakes and continue cooking for 15 more seconds. Add wine and then clams. Increase the heat to high, cover and cook until clams open and release their juices, 3-6 minutes, depending on size of clams. As clams open, use tongs to transfer them to a bowl.
Add ¼ cup of the reserved pasta water to skillet; bring to a boil. Add pasta to pan. Cook over high heat, tossing constantly, until pasta is al dente and has soaked up some of the sauce from the pan. Add clams and any juices from bowl to pan, along with parsley, and toss to combine. (Add more pasta water if sauce seems dry.) Transfer pasta to warm bowls and drizzle with remaining oil.