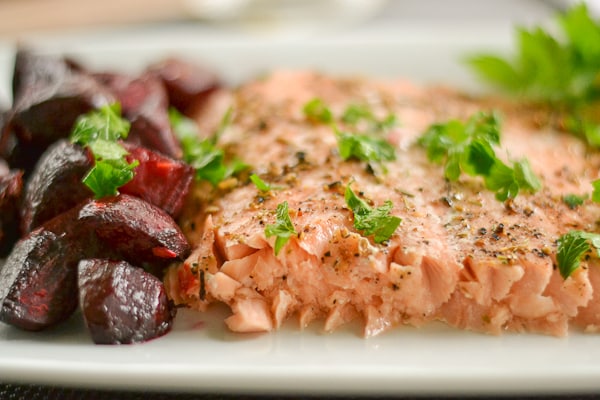 I made this simple salmon dish over the weekend and I paired it up with the left-over beets I got from my cousin's garden. The ginger flavored beets were roasted first for 15 minutes and were continually roasted with the salmon for another 12 minutes. The spiced salmon turned out moist and succulent. Furthermore, the coarsely ground rainbow peppercorn gives this salmon dish a complex peppery flavor and aroma. My family and I immensely enjoyed this healthy salmon and beets meal for dinner. Delicious!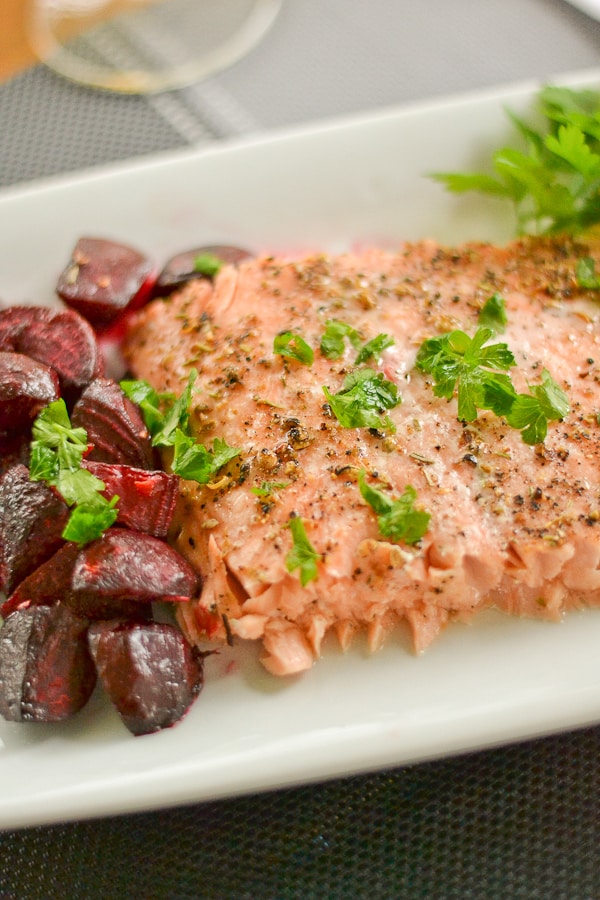 Spice-Crusted Roast Salmon with Ginger Beets
Ingredients
1 ½ lbs beets, peeled and cut into wedges
1 tablespoon finely chopped peeled fresh ginger
½ teaspoon fine sea salt
1 tablespoon plus 2 teaspoons olive oil
1 teaspoon rainbow peppercorns (black, white, pink and green)
1 teaspoon coriander seeds
½ teaspoon dried rosemary
½ teaspoon coarse sea salt
1 whole side (about 2 lbs) salmon
Chopped parsley
Instructions
Position one oven rack on top and another one in the middle and then preheat oven to 450°F.
Place beets in on a rimmed baking sheet in a single layer. Sprinkle with ginger, fine sea salt and 1 tablespoon olive oil. Toss to coat. Cover tightly with foil and roast in the middle of the oven for 15 minutes.
Meanwhile, place peppercorns, coriander seeds, rosemary and coarse sea salt in a spice grinder (mortar and pestle may also be used). Pulse or crush until the mixture is very coarsely ground. Line a large rimmed baking sheet with aluminum foil, oil the foil and place salmon on top; fold the tail section under if the fillet is too large for the baking sheet. Brush salmon with remaining 2 teaspoons olive oil and sprinkle with peppercorn mixture. Set aside.
After the beets has been roasted for 15 minutes, remove the foil and stir the beets to ensure even cooking. Place the salmon on top rack of the oven and roast with the beets for 12 minutes.
Transfer roast salmon to a platter and serve with the beets. Sprinkle with chopped parsley.
Enjoy!
Notes
Recipe adapted from wholefoodsmarket.com

If you cannot find rainbow peppercorns, you may used the regular ones.