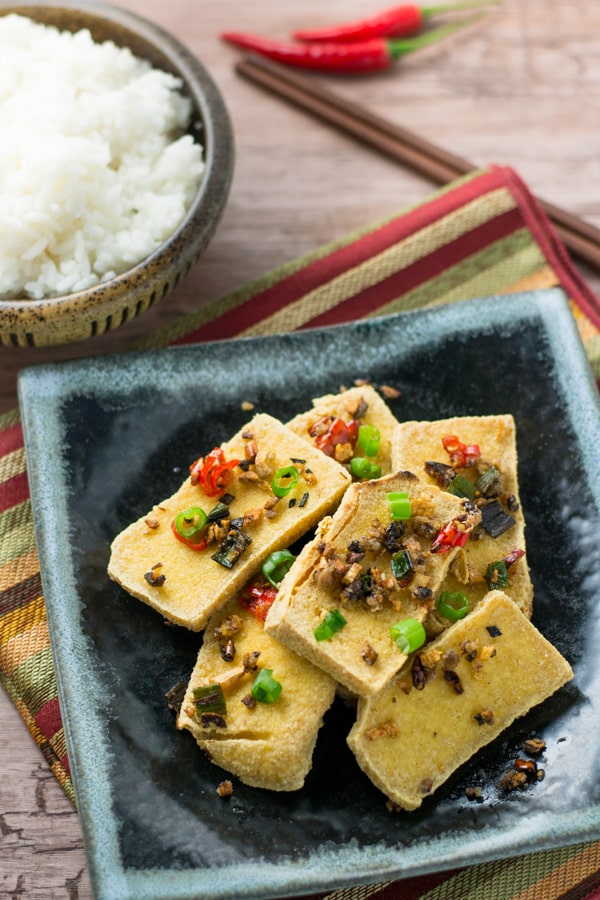 This spicy fried tofu dish caught my attention because it's fried and looked incredibly crispy. I have tried frying tofu in the past but have had trouble with fried tofu dishes that had a batter. This dish does not have a batter, but is still crispy. I also liked the seasoning and the aromatics in the dish and thought it would taste really good.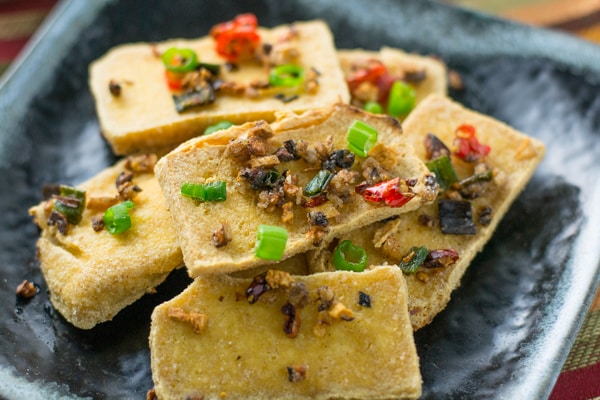 The tofu pieces are cut into rectangles and dried off. After frying the tofu pieces until golden brown, the tofu pieces are tossed in a mixture of salt, sugar, white pepper, green onions, garlic and chilies. The result is an appetizing vegetarian dish. Enjoy!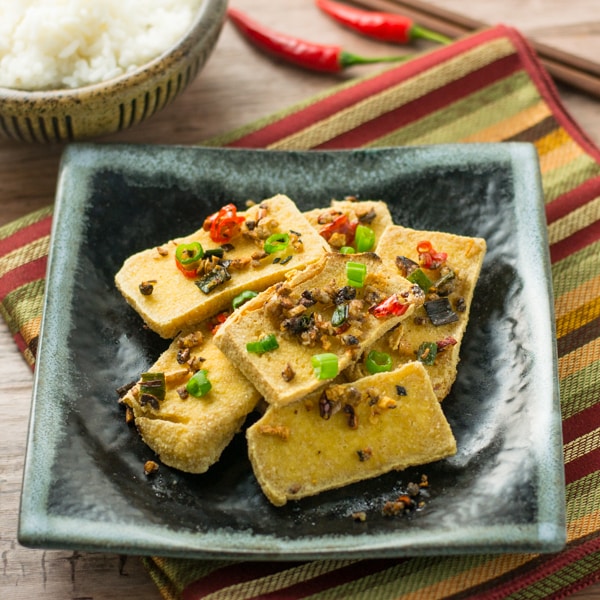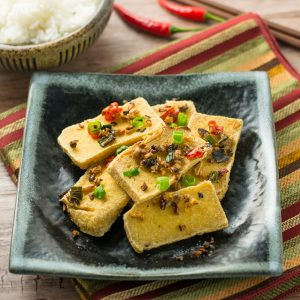 Spicy Fried Tofu
Ingredients
1

package

firm tofu (16 oz),

drained

Canola Oil for frying

3/4

tsp

salt

1

tsp

ground white pepper

1

tsp

sugar

4

cloves

garlic,

minced

3

Thai chilies,

red or green, chopped

2

large green onions

chopped
Instructions
Mix the white pepper, sugar and salt in a small bowl. Set aside.

Cut the tofu into rectangles, about 1/2 inch thick, 1 inch wide and 2 inches long.

Pat the tofu pieces dry. Make sure to get as much of the moisture out as possible.

Pour canola oil into a wok or saucepan, about 1/2 inch thick (enough to submerge the tofu). Heat the oil over high heat.

Fry the tofu pieces in batches. making sure not to overcrowd. Move the tofu around so it does not stick to the pan. Continue to fry until brown, about 2 minutes.

Drain all but 2 tbsp of oil from the pan. Reheat the pan and add the green onions, chilies, and green onions. Cook for a few seconds until fragrant.

Add the tofu, ground seasoning mixture, and garlic mixture into a large bowl. Toss to coat.

Serve with rice and enjoy!