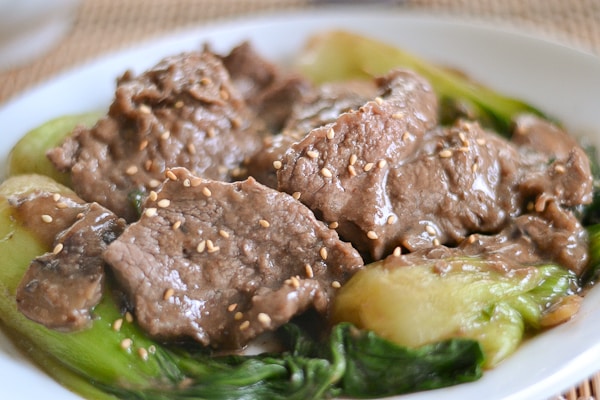 I love this dish. I always order this delicious dish every time we eat at our favorite local Szechuan restaurant. And as always, I tell my family that I can recreate this dish at home. So, here it is, slices of tender and tasty beef with two of my favorite vegetables; shanghai bok choy and mushrooms. Marinating the beef in a mixture of soy sauce, rice wine and cornstarch for 20 minutes gives it an added tenderness and flavor. Enjoy this savory dish with steamed rice or on its own.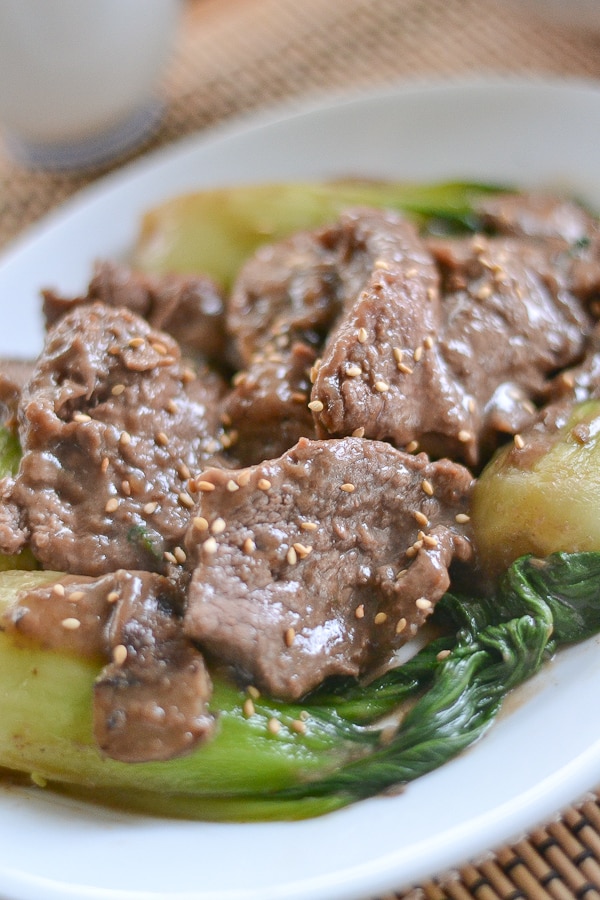 Stir Fried Beef with Shanghai Bok Choy
Ingredients
1 lb boneless sirloin steak
4 tbsp olive oil
1 knob ginger, peeled and sliced into thin strips
5 oz mushrooms, sliced
1 lb shanghai bok choy, halved, rinsed and pat dry
¼ cup chicken broth
¼ cup oyster sauce
2 tbsp cornstarch dissolved in 2 tbsp water
Marinade
1 tbsp soy sauce
2 tbsp rice wine or sherry
1 tbsp cornstarch
Instructions
Trim fat from beef steak and then slice thinly.
In a bowl, combine soy sauce, sherry and cornstarch. Stir in sliced beef; mix well. Cover and refrigerate for 20 minutes.
Heat wok or 10-inch non-stick skillet over medium high heat. Add 3 tbsp oil; rotate to coat side. Add beef and ginger and stir-fry for 3 minutes or until beef is brown. Remove beef from skillet and set aside.
Using the same skillet, add 1 tbsp of oil. Add mushrooms and stir fry for 2 minutes. Add bok choy and broth. Cover and steam the vegetable for 3 minutes.
Add the oyster sauce and stir to combine. Stir cornstarch mixture and then add to the skillet. Cook and stir until sauce has thickened. Stir in beef and heat just until beef is hot.
Serve and enjoy!