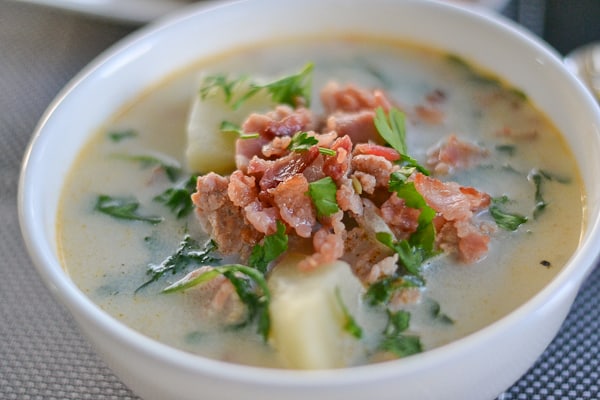 I first learned about this Zuppa Toscana Soup from eating at Olive Garden.  Along with minestrone, this Italian soup has always been part of their menu. So I was quite happy when I found this easy to follow recipe online and was able to make it at home.  I like the way the soup is not too creamy and the combined flavors of the browned sausage and bacon is so incredible. I am glad that I made this hearty soup; I will definitely make this again!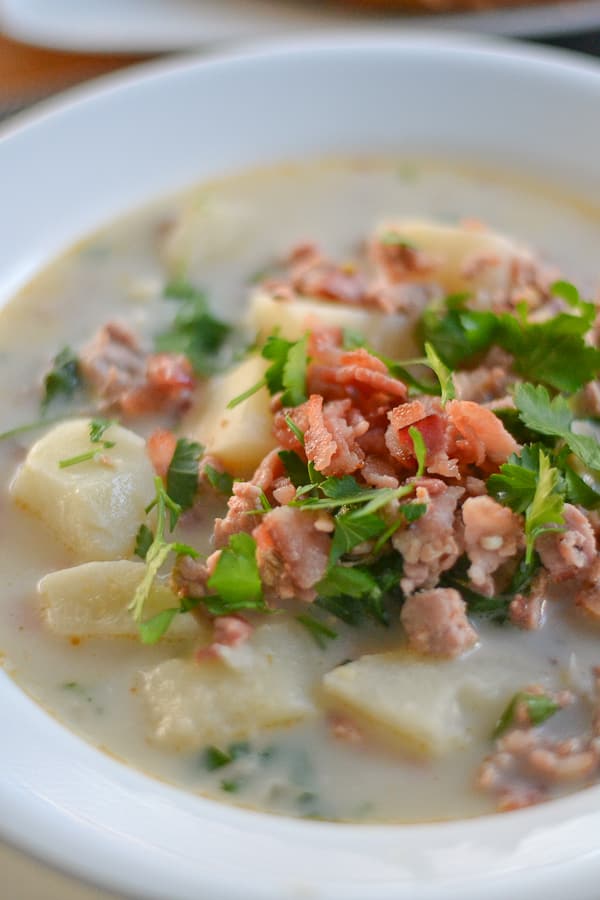 Zuppa Toscana Soup
Ingredients
1 lb Italian sausage (spicy or mild), casings removed
½ lb smoked bacon, chopped
4 cups water
3⅔ cups chicken broth
2 large russet potatoes, peeled and cubed
2 cloves garlic, peeled and crushed
1 onion, chopped
2 cups chopped kale or Swiss chard
1 cup heavy cream
Salt and pepper to taste
Instructions
Brown sausage in a pan over medium high heat, breaking up into small pieces as it cooks. Drain and set aside.
Wipe the pan clean with paper towel. Add bacon and cook over medium high heat until browned but not crisp. Drain and set aside.
Place broth, water, garlic, potatoes and onion in a soup pot. Simmer over medium heat for 15 minutes or until potatoes are fork tender.
Add sausage and bacon and simmer for 10 minutes.
Add kale and cream. Heat thoroughly.
Season with salt and pepper.
Serve and enjoy!
Notes
Recipe source: chefpablos.com