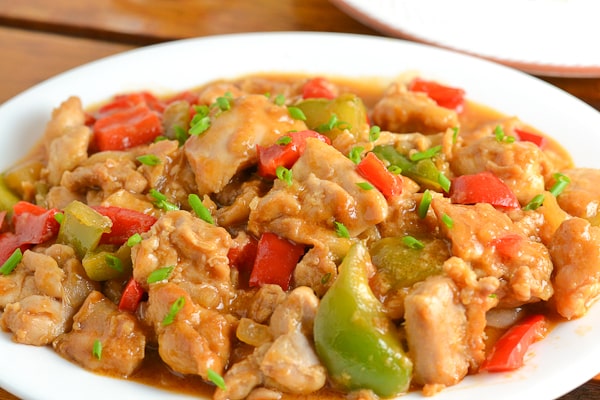 Chicken is a staple at our house. Wings and thighs (bone-in and boneless) are our favorites. I frequently use boneless chicken thigh because it is inexpensive and easy to cook.  It can tolerate longer cooking time and still comes out tender and juicy. This recipe caught my attention not only because it uses boneless chicken thigh but it is also a healthier version of a popular Chinese dish. In this recipe, the chicken pieces were first coated with egg and cornstarch and then sauteed for several minutes. It was coated with the sweet and sour sauce afterwards and then baked in the oven for 20 minutes. The vegetables were added with the chicken halfway through the baking time. The sweet and sour chicken was not crunchy as the take-out ones but it tasted the same. My family and I had this delicious chicken dish with steamed rice. Enjoy!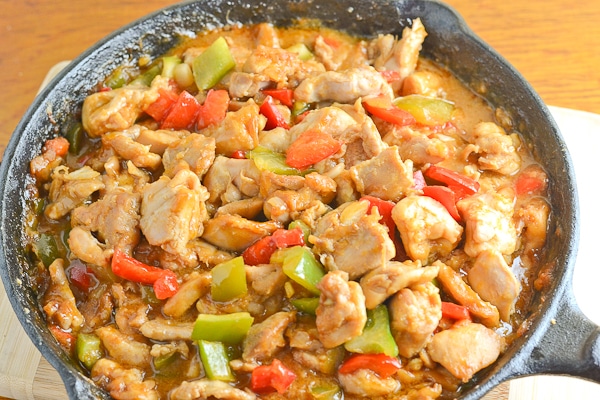 Sweet and Sour Baked Chicken
Ingredients
1 ½ lbs boneless, skinless chicken thighs, diced
3 tbsp cornstarch
1 egg, beaten
2 tbsp vegetable oil
½ onion, diced
½ red bell pepper, diced
½ green pepper, diced
Sauce
¼ cup soy sauce
¼ cup tomato ketchup
3 tbsp apricot jam, orange or ginger marmalade (I used pineapple jam)
2 tbsp cider vinegar
1 clove garlic, minced
1 tsp fresh ginger, finely grated
Instructions
Preheat the oven to 350ºF.
Whisk sauce ingredients together until blended; set aside.
Toss the chicken with the cornstarch until thoroughly coated and then toss with the egg.
Heat a sauté pan over high heat and add the oil. Add the chicken and sauté for about 3 minutes or until browned. Add the sauce and stir well to coat.
Remove the pan from the heat and place in the oven (or transfer the chicken and sauce to an ovenproof baking dish) and bake uncovered for about 20 minutes, stirring occasionally.
Add the onion and peppers halfway through cooking, stirring to coat with the sauce. Serve immediately.