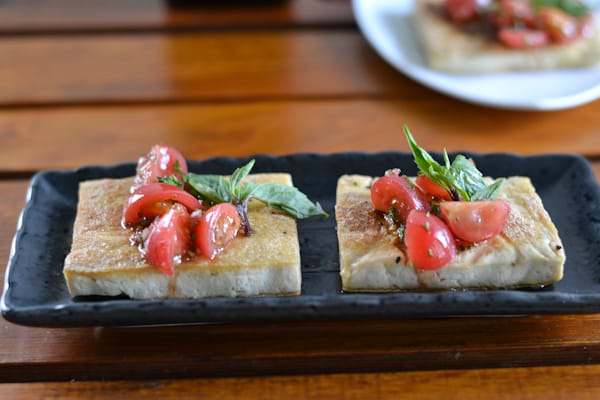 My family loves to eat tofu. Every time we eat at a restaurant, we try to order at least one tofu dish. At home, I try to incorporate tofu in the dishes I cook for my family. So when my son brought back this Japanese cookbook from his trip to Japan last month, the first thing I looked up was tofu dishes.  I wasn't disappointed.  I found this simple and easy tofu dish that I made for my family on the weekend. It consists simply of fried tofu topped with fresh salsa.  What makes this dish delicious is the salsa, which is composed of tomatoes, red onion, parsley, olive oil, soy sauce and balsamic vinegar.  The salsa is so good and refreshing; I used the left- over as a dressing for my salad. This healthy dish is a hit with my family; I am planning to make it again 😀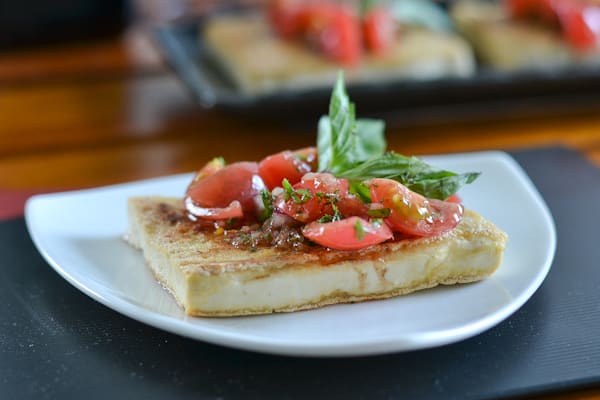 Tofu Steak with Fresh Salsa
Ingredients
1 cake firm tofu, drained
Pinch salt
Pinch pepper
10 cherry tomatoes, quartered
1 tablespoon chopped red onion
1 tablespoon chopped parsley
1 tablespoon olive oil
Salsa dressing:
1 tablespoon balsamic vinegar
½ tablespoon soy sauce
3 tablespoons olive oil
Instructions
Wrap the tofu in paper towel and press to extract water firmly.
Put all ingredients of salsa dressing, the cherry tomatoes, parsley and red onion into a bowl and mix well. Set aside
Cut the tofu into halves. And then cut each half across into ½ inch slices.
Sprinkle both sides of tofu slices with salt and pepper.
Heat the olive oil in a non-stick frying pan over medium heat. Fry the tofu until both sides are browned.
Arrange the tofu on a plate and pour the prepared salsa over it.
Serve and enjoy!
Notes
This recipe was adapted from the cookbook "Recipes of Japanese Cooking".