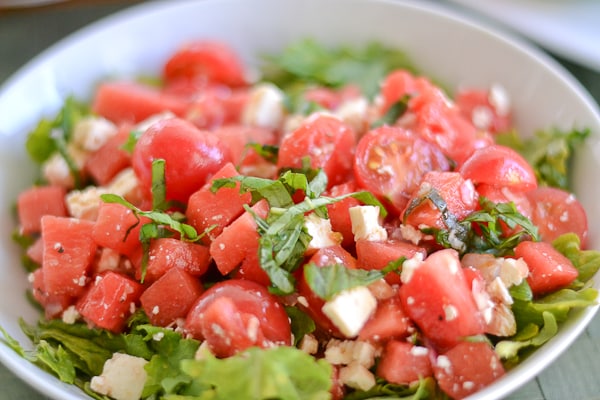 I love this time of the year because it is when my garden starts having some color. There are the yellow, orange and pink azaleas, as well as the purple, red and white rhododendron. There are also the white and red peony trees and my favorite, the lilac blossoms. The produce section of the supermarket is also filled with the colors of spring and summer. Fruits like strawberries and watermelons are some of the fruits we enjoy this time of the year. Watermelon is already good on its own, but after making this recipe, I find it even better with tomato, feta cheese, basil and a simple dressing of shallots, vinegar and balsamic. Refreshingly delicious!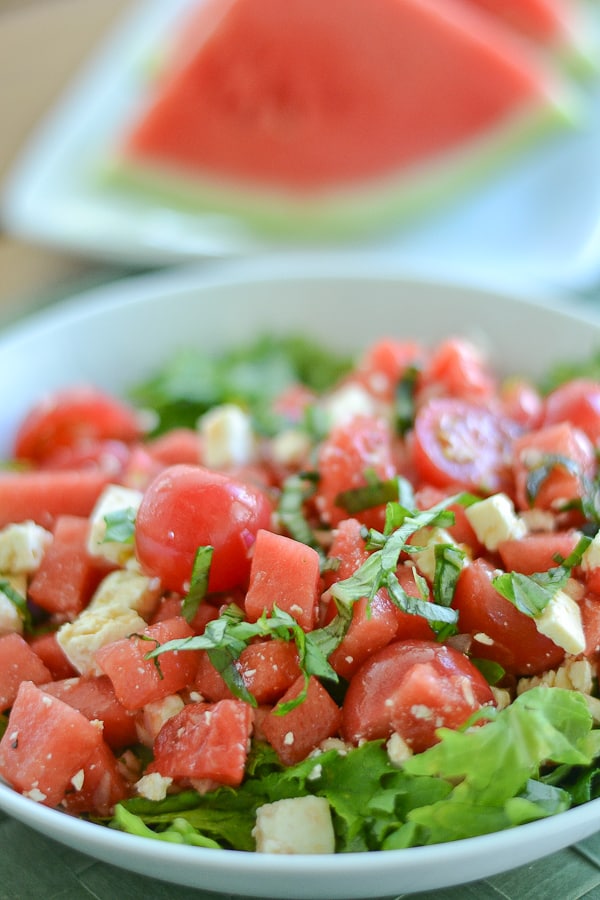 Tomato Watermelon Salad with Feta
Ingredients
1 tbsp white vinegar
1 tbsp balsamic vinegar
2 shallots, minced
2 tsp coarser sea salt
Freshly ground pepper
3 cups fresh ripe tomatoes, quartered or cherry tomatoes, halved
3 cups watermelon, cubed
3 tbsp fresh basil leaves, slivered
2 tbsp extra-virgin olive oil
8.8 oz feta cheese, cubed
4 cups baby kale, arugula or any salad greens
Instructions
Combine both vinegars with the shallots in a small bowl. Add 1 tsp salt and some peppers, stir and let stand.
Toss tomatoes and watermelon in a large bowl and sprinkle with the remaining 1 tsp salt.
Whisk 2 tbsp of the basil and the oil into the vinegar mixture. Pour the mixture over the fruits, scraping all the shallot and basil bits into the salad. Toss gently. Add feta cheese and gently toss so as not to break it up too much.
Serve over salad greens and trim with remaining basil.
Enjoy!
Notes
Recipe adapted from Cowgirl Creamery Cooks by California cheesemakers Sue Conley and Peggy Smith as featured in the May 9, 2014 issue of The Province.