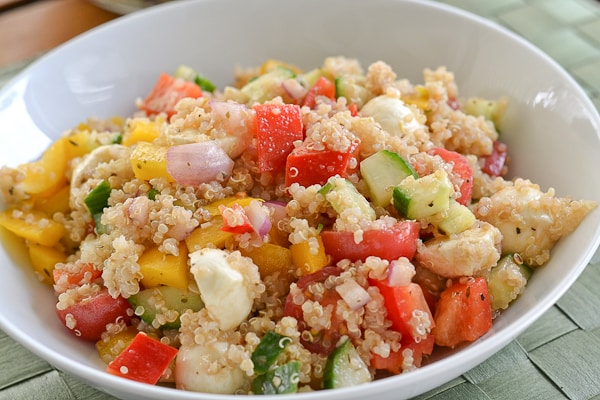 My salad recipe collection won't be complete without a quinoa salad. This super food has become quite popular; more and more people are incorporating it in their diet. This is not only because of its nutrition and health benefits but also of it being gluten free. Although most people use quinoa in their salads, this wonder grain is also good in soups, stews and even in cakes (Quinoa Chocolate Cake).
This quinoa salad recipe is one of the few ones I got from the Quinoa cookbook my co-worker lent me last month. It consists of colorful vegetables and refreshing bocconcini tossed with a tangy dressing consisting of balsamic vinegar, extra virgin oil, Dijon mustard, oregano and garlic. This quinoa salad is not only pleasing to the eyes but also to the palate.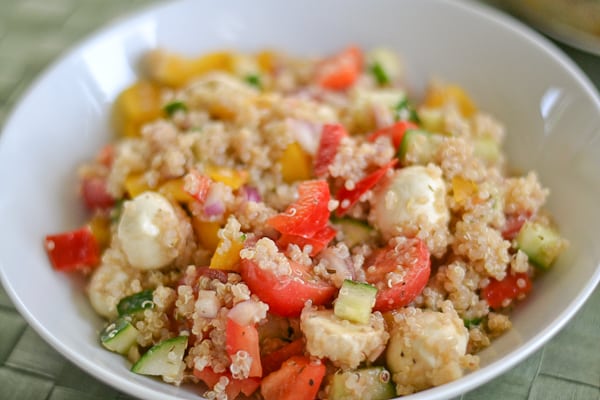 Quinoa Salad with Bocconcini
Ingredients
¾ cup (185 mL) quinoa
1½ cups (375 mL) water
1 cup (250 mL) diced cucumber
1 cup (250 mL) halved cherry tomatoes
½ cup (125 mL) diced red onion
1 cup (250 mL) diced red bell pepper (about 1 pepper)
½ cup (125 mL) diced yellow bell pepper
3 Tbsp (45 mL) balsamic vinegar
2 Tbsp (30 mL) extra virgin olive oil
1 Tbsp (15 mL) Dijon mustard
2 Tbsp (15 mL) finely chopped fresh oregano (or 2 tsp/10 mL dried oregano)
2 tsp (5 mL) minced fresh garlic
pinch salt
pinch ground black pepper
1 cup (250 mL) halved mini bocconcini cheese pieces
Instructions
Bring the quinoa and water to a boil in a medium saucepan. Cover, reduce to a simmer and cook for 10 minutes. Turn the heat off and leave the covered saucepan on the burner for another 4 minutes. Remove the lid and fluff the cooked quinoa with a fork. Set aside to completely cool.
Combine the cucumber, tomatoes, onion, red and yellow pepper in a large bowl.
Whisk the vinegar, olive oil, mustard, oregano, garlic, salt and pepper together in a small bowl. Pour the dressing over the vegetables and thoroughly mix all the ingredients. Add the quinoa and bocconcini and mix until evenly combined. Serve immediately or refrigerate for up to 2 days.
Notes
Recipe source: Quinoa 365: The Everyday Superfood by Patricia Green and Carolyn Hemming