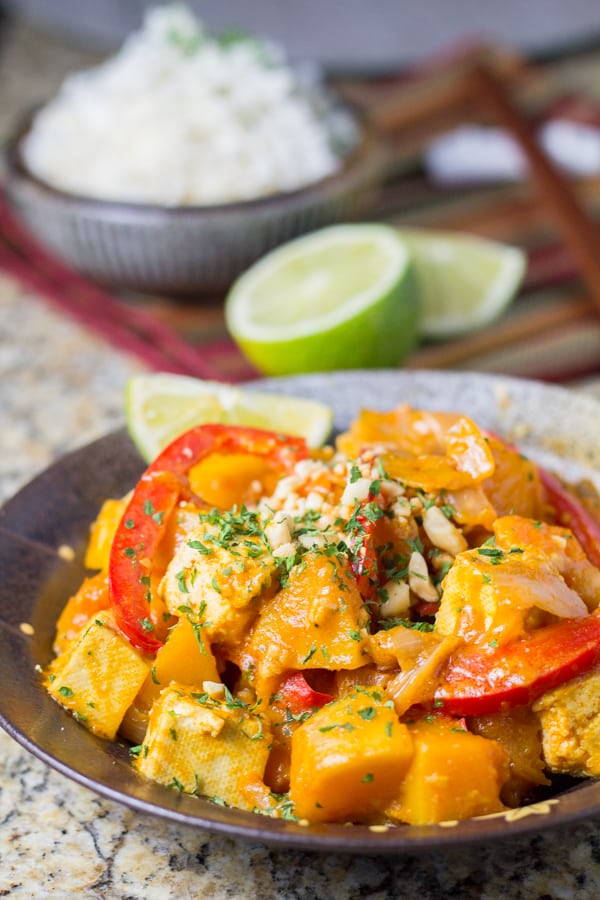 This year, one of my new year's resolutions is to eat healthier. It is now a couple of weeks into the new year and I am happy to say that I am eating better. I find it difficult to find a recipe that is both flavorful and also healthy. It is a good thing that I stumbled across this vegan curry with squash and tofu recipe.
What I like about this recipe is that it is easy to make. The hardest part was probably the prep (eg. preparing the butternut squash). After that it was simply simmering the squash, tofu and red pepper in the Thai red coconut curry mixture. This dish came out so good. The smell was incredible and had so much flavor. The sweetness of the squash, the creaminess of the coconut milk, the crunchiness of the red peppers and the spiciness of the red curry was such a good combination. Sprinkle it with peanuts and lime juice and you have a winner! Overall, I enjoyed eating this healthy and nutritious vegan dish. Enjoy!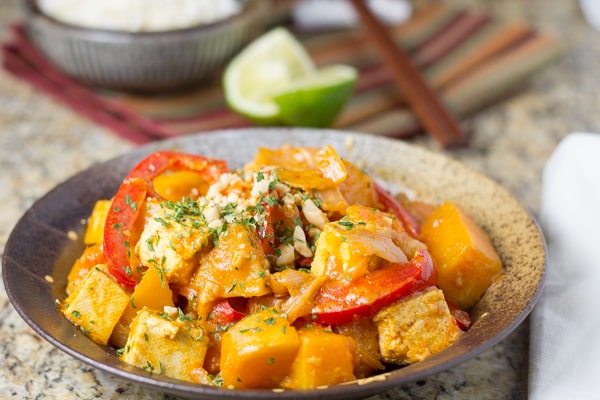 Vegan Curry with Tofu and Squash
Ingredients
1 pkg (425 g) firm tofu, drained
1 butternut squash, (about 2 lb/1 kg)
1 tbsp vegetable oil
1 onion, sliced
2 cloves garlic, minced
2 tsp red curry paste
1 can (14 oz/398 mL) light coconut milk
¾ cup vegetable stock
3 tbsp soy sauce
½ tbsp packed brown sugar
½ tsp salt
1 sweet red bell pepper, thinly sliced
2 tbsp lime juice
2 tbsp salted peanuts, chopped
Instructions
Pat tofu dry with paper towels; cut into ¾-inch (2 cm) cubes. Set aside. Peel and seed squash; cut into ¾-inch (2 cm) cubes to make 3 cups (750 mL). Set aside.
In skillet, heat oil over medium heat; cook onion, garlic and curry paste, stirring occasionally, until onion is softened, about 5 minutes. Add squash, coconut milk, stock, soy sauce, sugar and salt; bring to boil. Reduce heat to low; partially cover and simmer until squash is almost tender, about 12 minutes.
Add red pepper; simmer for 5 minutes. Add tofu; simmer until heated through, about 2 minutes.
Nutrition Information
Serving size:
1
Calories:
204
Fat:
11g
Saturated fat:
4g
Carbohydrates:
21g
Sodium:
878mg
Fiber:
3g
Protein:
9g
Cholesterol:
0g