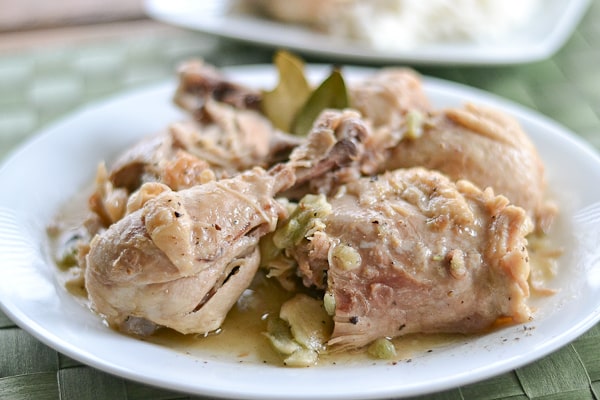 It has been a while since I've had white chicken adobo. I completely forgot about this popular Filipino dish until last week when my nephew cooked it and posted it on Facebook. I asked for his recipe and with few changes, I was able to make it over the weekend. This recipe does not use soy sauce, which is the traditional way to cook adobo. The result was white chicken dish hence the name adobong puti (white adobo). After 40 minutes of simmering in the garlic-vinegar mixture, the chicken meat was tender and tasty with just a bit of tanginess to it, the way I like my chicken adobo to be. I am so glad I made this dish; I am already planning to make white pork belly adobo on the weekend. Yummy!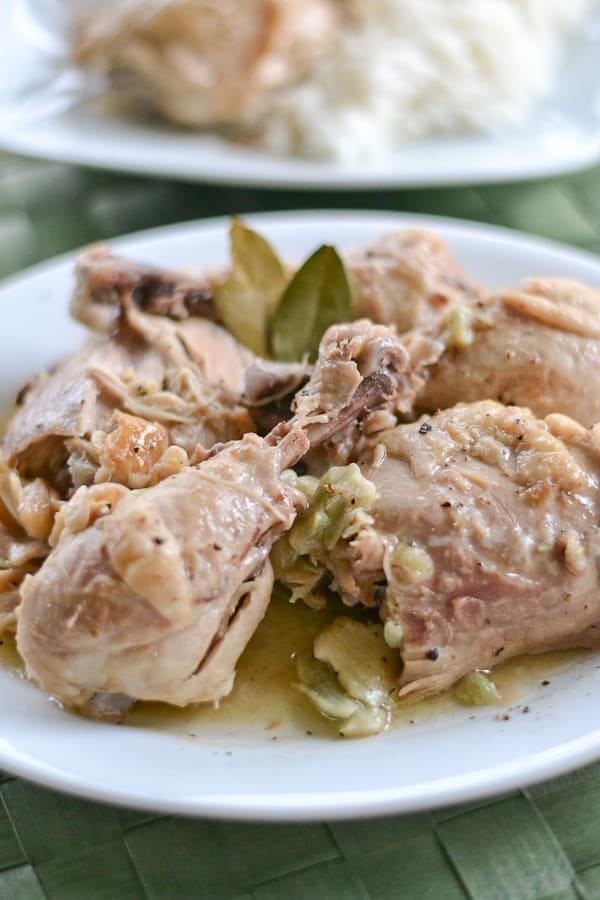 White Chicken Adobo (Adobong Puti)
Ingredients
3 lbs of your favorite chicken pieces (drumsticks and thighs are a good combination)
6 cloves garlic, crushed
3 bay leaves
1 cup white vinegar
2 cups water
1 tsp salt
½ tsp freshly ground pepper
1½ tbsp fish sauce (optional)
Instructions
Combine all ingredients in a pot and without stirring, bring to a boil over high heat. Reduce heat to medium, cover and simmer for 30 minutes, or until meat is tender.
Take the lid off, increase heat to medium high and continue cooking until sauce reduces and thickens, around 8-10 minutes (depending on how much sauce you like). Correct seasonings with salt to taste.
Serve with steamed rice.
Enjoy!