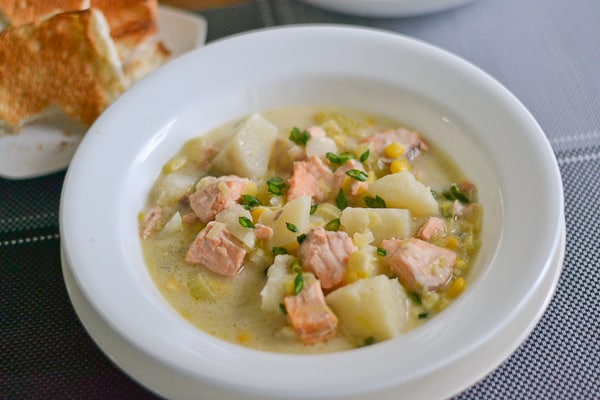 My family loves chowders, especially seafood ones.  I have made shrimp and fish chowder before but this recipe is different because it consists of chunks of salmon, a staple fish at my house. It also consists of leek, a healthy vegetable that I have come to love and enjoy and frequently use in my cooking.  It has a delicate  flavor  and it adds a subtle taste to this soup without overpowering the flavors of salmon. It was no surprise that this salmon chowder is a hit with my family. Enjoy!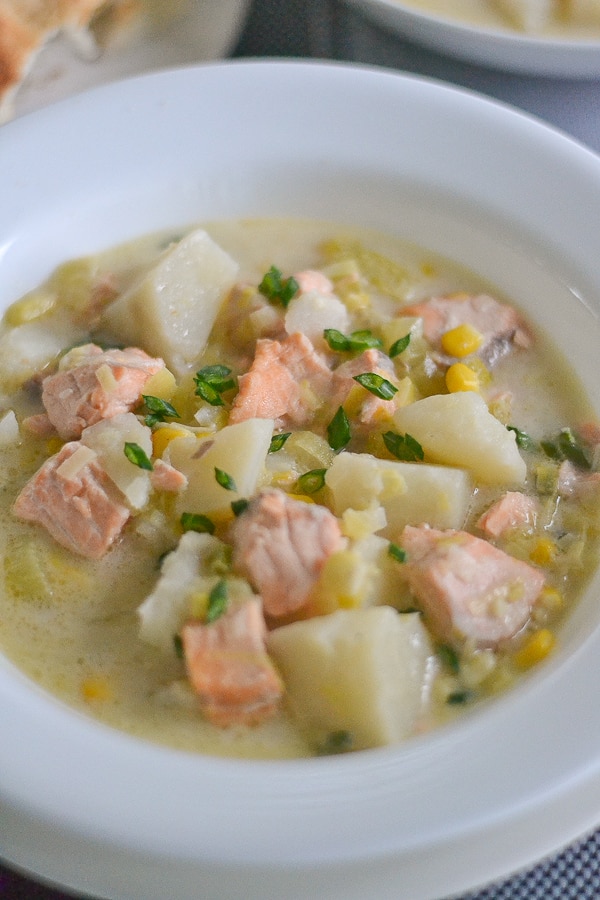 Salmon Chowder
Ingredients
2 tbsp butter or olive oil
2 leeks, (white parts only), thinly sliced
2 ribs celery, diced
1 clove garlic, minced
½ tsp salt
1 pinch pepper
2 large potatoes, peeled and cubed
1 tbsp all-purpose flour
4 cups chicken broth
1 (15 oz) boneless skinless salmon fillet, cut in chunks
½ cup frozen corn kernels
⅓ cup whipping cream
2 tbsp chopped fresh chives
Instructions
In large Dutch oven, melt butter over medium heat; cook leeks, celery, garlic, salt and pepper, stirring occasionally, until softened, 4 to 6 minutes.
Stir in potatoes and flour; cook, stirring occasionally, for 2 minutes.
Stir in broth; bring to boil. Reduce heat, cover and simmer until potatoes are tender, 7 to 10 minutes.
Add salmon and corn; simmer until fish flakes easily when tested, about 5 minutes. Stir in cream and chives; simmer for 2 minutes. Correct seasoning with salt and pepper to taste.
Serve and enjoy!
Notes
Source: Canadian Living Magazine: February 2012
Looking for more soup recipes? Here are a few more that I made.
Italian Sausage and Vegetable Soup
Minestrone Soup with Bacon and Kale