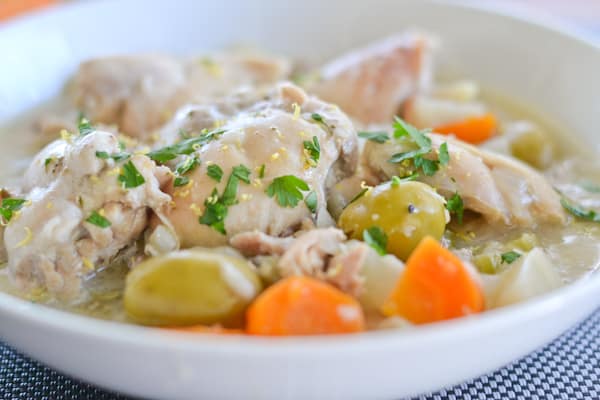 I went back to work this week after being off for two months.  It was nice catching up with old friends and also meeting new ones. I will surely miss my morning walks and the extra time that I had for gardening and cooking. I am glad that over the summer, I had a chance to start using my slow cooker to make meals for my family. That is why I feel that making dinner during workdays won't be as challenging.  I will only have to do the final stage of cooking when I get home after work and dinner is ready. Lemon and olive chicken is one of the dishes that I made using a slow cooker.  The chicken pieces were slowly cooked for 6 hours over a mixture of vegetables, spices, broth and water. Lastly, a mixture of flour, cooking liquid and lemon juice was used to thicken the sauce. This tasty dish is good on its own or with steamed rice. Delicious!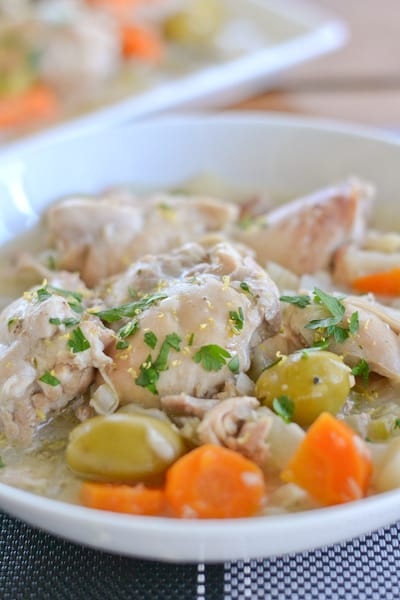 Slow Cooker Lemon Chicken
Ingredients
2 carrots, chopped
2 ribs celery, chopped
1 bulb fennel, cored and chopped
1 onion, chopped
16 large stuffed green olives
4 cloves garlic, crushed
2 bay leaves
½ tsp dried oregano
¼ tsp salt
¼ tsp pepper
12 boneless skinless chicken thighs
¾ cup sodium-reduced chicken broth
¼ cup all-purpose flour
2 tbsp lemon juice
½ cup chopped fresh parsley
Grated zest of 1 Lemon
Instructions
In slow cooker, combine carrots, celery, fennel, onion, olives, garlic, bay leaves, oregano, salt and pepper.
Arrange chicken pieces on top of vegetables. Add broth and ¾ cup water. Cover and cook on low until juices run clear when chicken is pierced, 5-1/2 to 6 hours. Discard bay leaves.
Whisk flour with 1 cup of the cooking liquid until smooth; whisk in lemon juice. Whisk into slow cooker; cook, covered, on high until thickened, about 15 minutes.
Mix parsley with lemon zest; serve sprinkled over chicken mixture.
Enjoy!
Notes
Recipe source: canadianliving.com