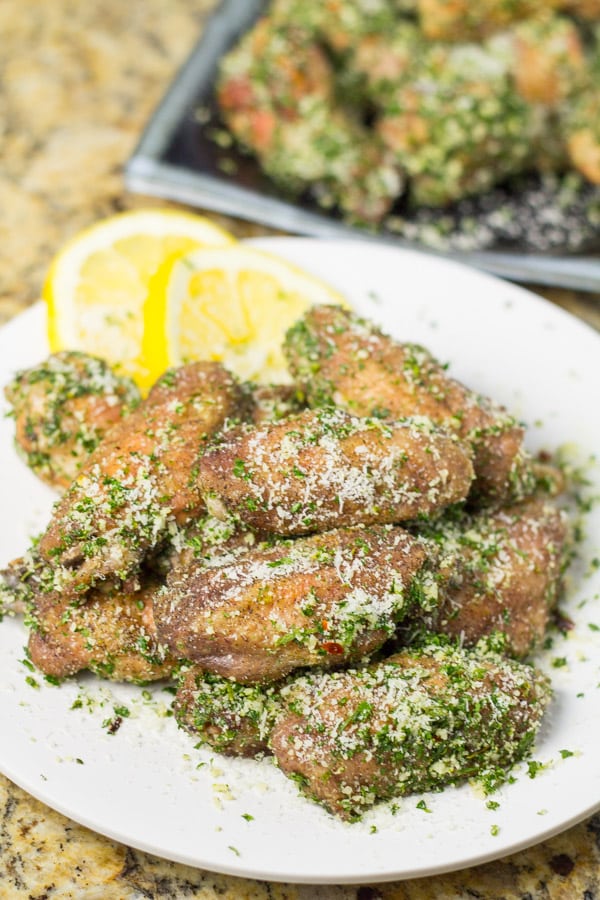 I was inspired to make this dish after making Skillet Pull-Apart Garlic Knots a couple of weeks ago. The bread was coated in a mixture of Parmesan cheese, garlic, parsley and chives. The garlic knots were so full of flavor with the herbs, cheeses and garlic all tasting great together. So I thought a similar result could be achieved by applying a similar rub to some crispy chicken wings. And boy, was I right! In this baked Parmesan chicken wings dish, the wings are baked. I prefer this way of cooking my wings because the wings still end up really crispy and there is the extra health benefit of not frying them. Additionally, it's much less cleanup and overall easier and more convenient for me. After baking the wings until crispy, they are simply tossed in a mixture of Parmesan cheese, parsley, red pepper flakes and chives. The result was crispy baked wings full of Parmesan and parsley goodness. Yum!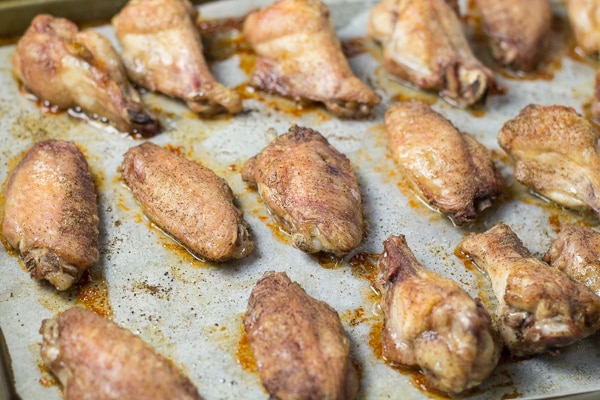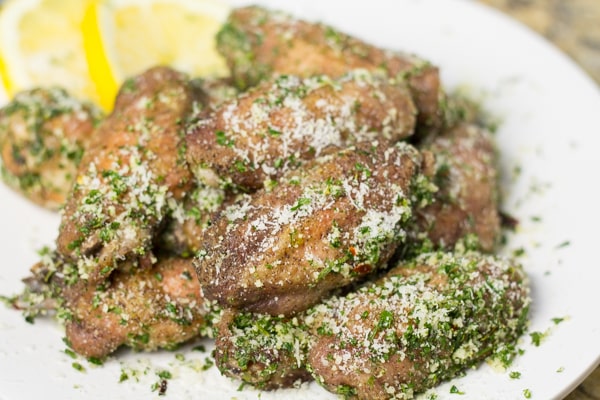 Baked Parmesan Chicken Wings
Ingredients
2 lbs chicken wings
salt and pepper to taste
½ tsp garlic powder
Parmesan mixture
¼ cup Parmesan cheese, grated
¼ cup chopped parsley
1 tsp red pepper flakes
½ tsp garlic powder
salt and pepper to taste
1 tbsp minced fresh chives (optional)
Instructions
Preheat oven to 425 F degrees.
Pat the chicken wings dry with a paper towel.
Season the wings with salt, pepper and garlic powder.
Transfer the wings to a baking sheet lined with parchment paper. Bake the wings for 40 – 45 minutes or until the wings are at a desired crispness.
While the wings are in the oven, in a large bowl mix together the Parmesan cheese, parsley, red pepper flakes and chives.
When the wings are done, transfer them to the bowl with the parmesan mixture and toss well to coat the wings. Serve immediately.