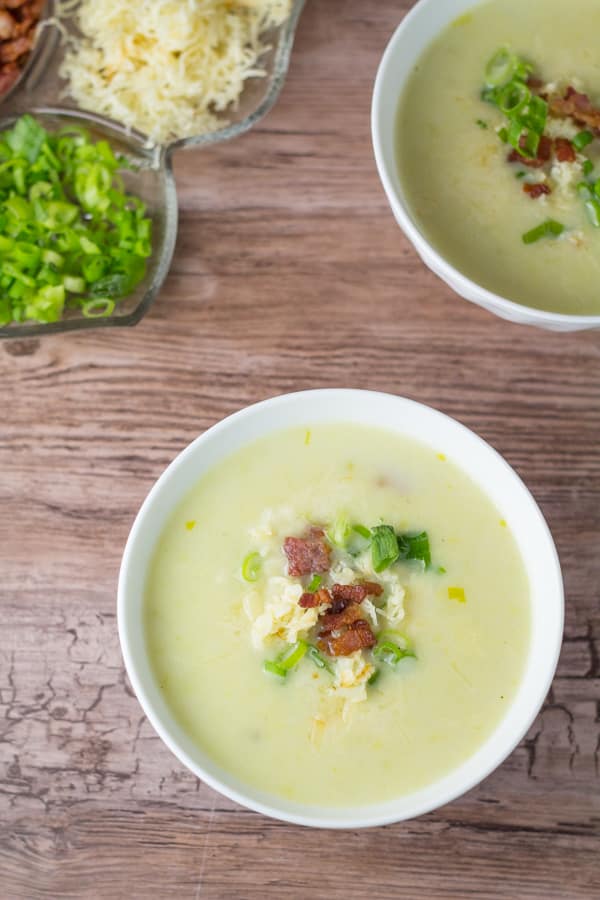 I love using leeks in my soups, especially in chowders. They add a subtle taste and flavor to the chowder. This baked potato and leek soup recipe is a perfect example of that. I have shared some chowder recipes in the past and some of my family's favorites are fish chowder, salmon chowder and shrimp and fish chowder.
This soup is a classic and uses potato and leek. I like that milk and sour cream is used instead of heavy cream, to reduce the fat. The potatoes in this dish are first baked and then combined with the sauteed leeks. The mixture was then pureed. The milk, sour cream and cheese were added at the final stage of cooking. The soup came out creamy and not too thick. It is so good, especially when topped with chopped green onions, bacon bits and grated cheese, giving the soup added taste and texture.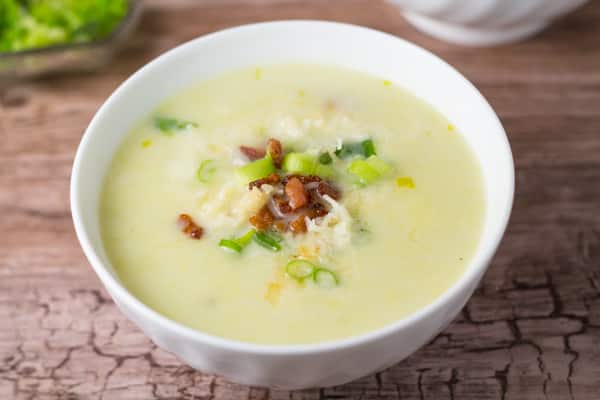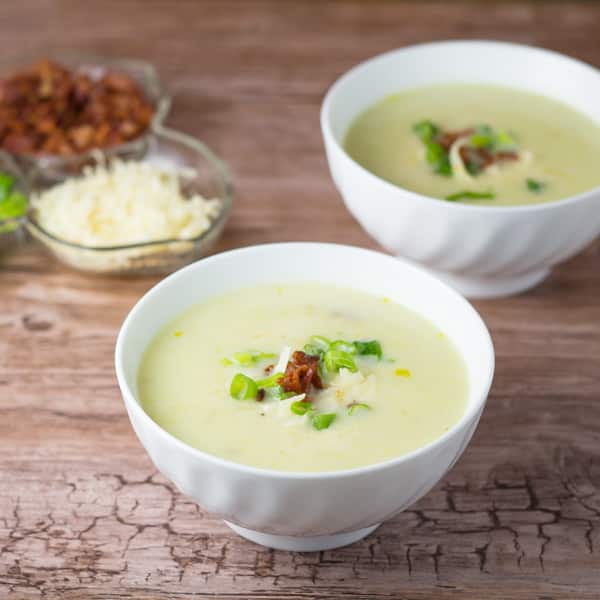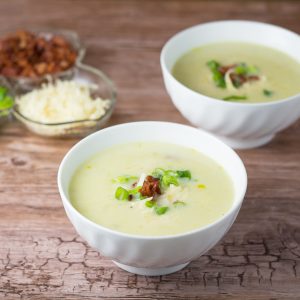 Baked Potato and Leek Soup
Ingredients
2

large russet potatoes,

about 11 oz each

1/4

cup

unsalted butter

2-1/2

cups

sliced leeks,

about 2 medium leeks; white and light green parts, rinsed well

2

cloves

garlic,

minced

Kosher salt and freshly ground black pepper,

to taste

2

cups

chicken broth

2

cups

water

1/2

cup

milk

1/2

cup

sour cream

4

thick slices bacon,

cut into 1/2-inch dice

1

cup

grated sharp Cheddar cheese

2

tbsp

thinly sliced green onions
Instructions
Preheat the oven to 375 degrees F.

Scrub the potatoes under cold running water with a vegetable brush and then wipe dry with paper towels. Pierce the potatoes in several places with a fork. Place on a baking sheet and bake until fork tender, about 1 hour and 10 minutes. Let cool completely on a wire rack.

In a pot, melt the butter over medium heat. Add the leeks and garlic. Season with salt and cook, stirring occasionally, until the leeks has softened, about 10 minutes. Add the broth and water, and bring to a simmer. Cook, stirring occasionally until the leeks are very tender, about 20 minutes.

Meanwhile, place the bacon in a skillet and cook over medium heat, stirring occasionally, until browned and crisp, 8 to 10 minutes. Drain and place on a paper towel lined plate.

When the potatoes are cool to handle, cut one of them in half lengthwise. Use a large spoon to scoop the flesh in one piece from each half. Cut the flesh into 1/2-inch cubes and set aside.

Coarsely chop the potato skin and the entire remaining potato and add to the pot with the leeks. Using a hand blender, purée the contents of the pot.

Whisk together the milk and sour cream until smooth and then whisk this into the soup, along with 1/2 cup of the cheese. Stir in the reserved diced potato. Season to taste with salt and pepper.

Serve, garnish with the remaining cheese, bacon bits, and chopped green onions.