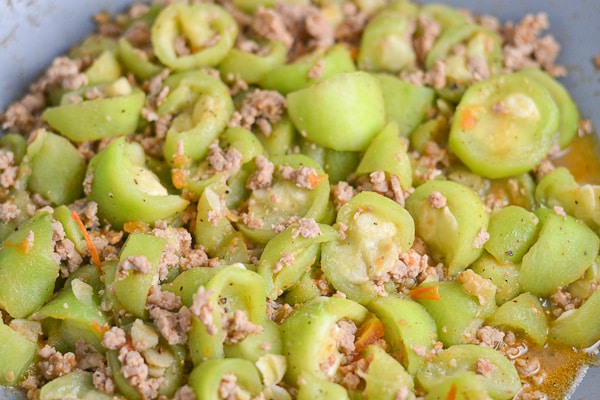 My style of cooking is influenced by what my mom and dad would cook for us when we were growing up. They are both good cooks but with different cooking styles. My dad would cook typical Chinese dishes with soy sauce and oyster sauce as seasonings. My mom, on the other hand, would cook Filipino dishes using fish sauce or salt to flavor them. This simple recipe of sautéing gourd with minimum ingredients is my mom's style of cooking. Growing up, my mom would cook us simple dishes like Ginisang Patola. It is not only cheap but also fast and easy to cook. This was because my mom had a store to tend to and at the same time had to cook for a family of nine. I miss these simple Filipino dishes and last week, I got the chance to make this sautéed sponge gourd that my mom used to make for us. I made some adaptations by using lean ground pork instead of the usual shrimp and omitted the misua (Chinese vermicelli) that normally mix with it. I thought the sponge gourd with the ground pork was already good as is, adding the vermicelli was not necessary. I love this dish so much; I had to go for a second serving. Yummy!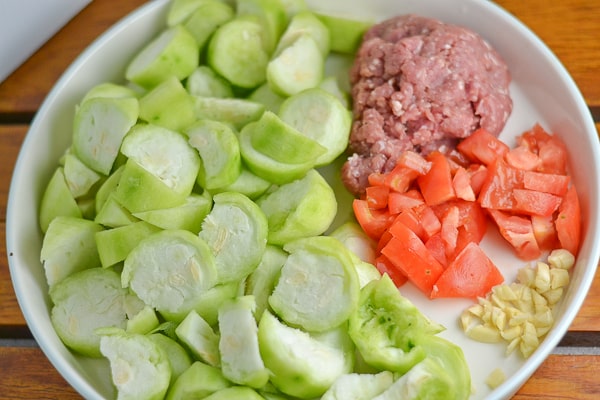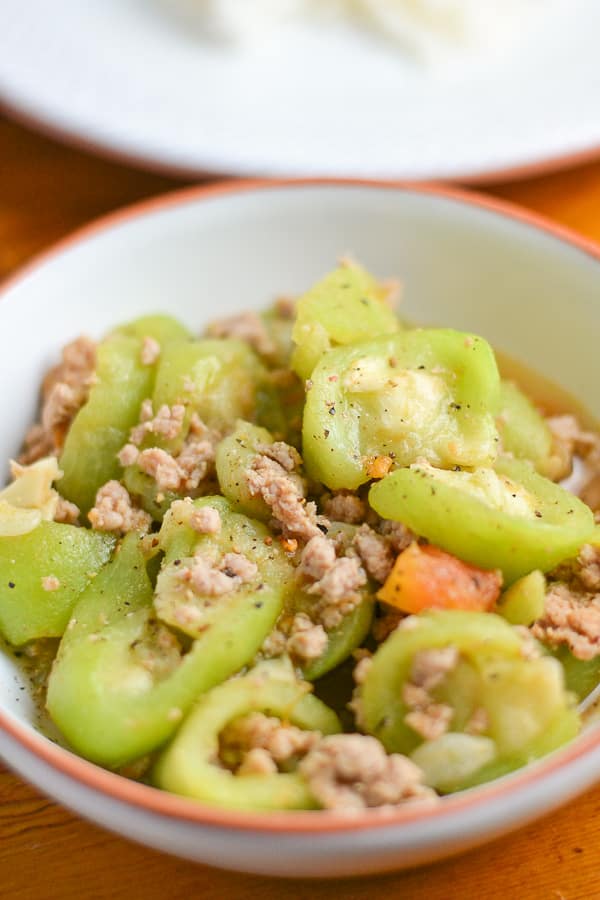 Ginisang Patola
Ingredients
2 tbsp olive oil
2 cloves garlic, chopped
1 tomato, chopped
½ lb lean ground pork
1 large (2 lbs) patola (sponge gourd), peeled and slice into bite-size pieces
1 tbsp fish sauce or 1 tsp salt
Instructions
In a skillet, heat oil over medium heat. Add garlic and tomato and sauté for 2-3 minutes or until tomato has softened.
Add pork and sauté for 3 minutes or until browned and no longer pink. Add fish sauce or salt; stir to combine.
Stir in patola, reduce heat, cover and cook for 5 minutes or until patola is crisp tender. Adjust seasoning with fish sauce or salt. Serve with steamed rice.
Enjoy!